Sept. 25, 13h - 16h: Aquatic Life and Science Literacy 101
Learn about marine life, aquatic food webs, and the life cycle of a frog. FREE with admission to Museum. At the door. Bilingual. With student animators in Let's Talk Science (McGill). Experiential learning stations will be set up in the Dawson Gallery.  No reservation necessary. 
---
HOMECOMING and OPEN HOUSE 2016
@ Redpath Museum
---
Saturday, Oct. 29, 16h-17h
Special lecture: New Forces of Evolution: How Behaviour and Physics Play with Darwin 
By Hans Larsson (Director, Redpath Museum)
This talk will present new data on how novel environments and physical forces may shape large-scale evolutionary change. Rather than being a slow and steady process spanning millions of years, the fossil record tells a different story, with large stretches of time preserving relatively little change and short periods of rapid change. This presentation will focus on experimental results from the Larsson Lab which present a more complex view of how fast-paced evolutionary changes in deep time can be replicated in real time today.
Hans Larsson focuses on large-scale questions of biological evolution spanning palaeontology to embryology. His goal is to connect the dynamics of ecology and developmental biology to evolutionary patterns and processes.  His presentation will be followed by a guided tour of the Redpath Museum exhibits by McGill students.
$10 in advance, $15 @ door, Register in advance.
---

Sunday, Oct. 30, 10h-11h
Outdoor Guided walking tours: 
Leafy Legacy - Guided Tour of the Trees of McGill / Les arbres du campus - Visite guidée des arbres de McGill
Learn about the astounding botanical legacy of the McGill downtown campus with student guides from Redpath Museum Society. Meet at the front steps of the Redpath Museum.
Venez découvrir le patrimoine botanique étonnant du campus du centre-ville de McGill avec des guides étudiants de la Société du musée Redpath. Vous avez rendez-vous à l'entrée du musée. 
Fees: $10/ adult, $5/child or student, includes a copy of the booklet Leafy Legacy or $4 adult OR $ 12 max./ family. 
10 $ / adultes, 5 $ / enfants et /étudiants ; comprend une copie du fascicule A Leafy Legacy.
AND /ET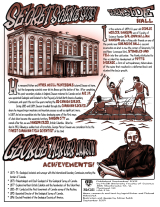 Secret Science Spots - The McGill History They Didn't Teach/ Secret Science Spots - L'histoire de McGill qu'ils n'ont pas enseignée
Learn about secret science spots such as Ernest Rutherford's first lab, Maude Abbott's preserved hearts and Prince Philip's toilet. With guides from the Redpath Museum Society. Meet at the front steps of the Redpath Museum. Vous êtes invités à découvrir des curiosités scientifiques comme le premier laboratoire d'Ernest Rutherford, les cœurs préservés de Maude Abbott et la toilette du Prince Philip. Avec les guides de la Société du musée Redpath, vous avez rendez-vous à l'entrée du musée.
Registration includes the booklet Secret Science Spots. L'inscription comprend le fascicule Secret Science Spots.
and/ et
Fossil
s in Foundation Stones.
Meet in the Geological Rock Garden beside the Museum.
---
INDOOR GUIDED TOURS with students in the Redpath Museum Society:
 11h: Dinos
12h: Quebec Biodiversity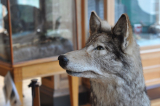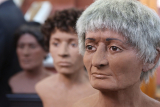 13h: Mummies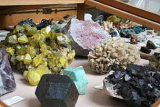 14h: Minerals
No registration required. Everyone welcome. Meet in main entrance of Museum.
---
Nov. 6, 15h: Seahorses
Special presentation: Seahorse taxonomy and conservation 
By Dr. Sara Lourie (Redpath Museum Associate and Honorary Curator)
PHOTO: Sara Lourie, a research associate at the Redpath Museum, examines specimens of new species of pygmy seahorse—the world's smallest known seahorse - in Indonesia.
Joerg Adam
 Dr. Lourie is an active partner of Project Seahorse, an international collaboration of biologists, social workers, and other practitioners whose mission is to conserve seahorses and the habitats in which they live while respecting the needs of the humans who depend on them. Seahorses have been used for human purposes for centuries. During fieldwork for her doctoral thesis, Lourie learned that seahorses are common in remedies for respiratory and urinary ailments. They are tied to small fishing boats or hung on walls as good luck charms. Seahorses are also an alleged aphrodisiac. Like many other species, seahorses are in need of protection. However, seahorses are collected in very large numbers, and are declining in number around the world. This is partly because of direct capture for human use, but primarily because they end up as by-catch in commercial ships trawling for fish. This event launches the new book by Dr. Laurie: Seahorses: A Life-Size Guide to Every Species. Dr Lourie is a Research Associate for Project Seahorse and active both as a researcher and conservationist. Part of Ivy Press' natural history series that aims to combine high quality illustrations with content by established scientists, this publication provides 'an insight into the fascinating lives of these charismatic, magical underwater creatures, which will inspire you to care for them and their threatened ocean homes.'
FREE, everyone welcome. In English. No reservation required.