The Faculty of Dentistry is committed to maintaining a leadership role in oral health education, in scientific research and in the promotion of oral health and quality of life in the whole population, with an emphasis on the needs of under-served communities and individuals. Our diverse programs work synergistically, ensuring that every aspect of our teaching, research and outreach mission offer excellence in teaching, learning and care.
Our educational programs enable students and professionals to attain the highest levels of competence and commitment to patients and community.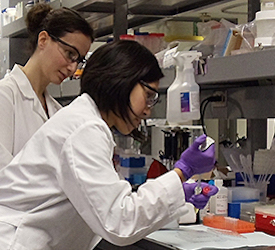 Researchers within our Faculty investigate a broad range of important health issues at community, clinical and basic science levels.
The Faculty provides free and half-priced dental care for a variety of people in Montreal, focusing on under-served groups.