classified as:
Desautels Faculty of Management
entrepreneurship mcgill.ca/dobson
McGill Dobson Centre for Entrepreneurship
External
Faculty
Staff
Students
subscribe

On February 7, the McGill Dobson Centre hosted a Startup Financials Workshop to expose this year's McGill Dobson Cup teams to the basics of Finance that will serve them well as they advance to the finals.
The presentation was led by Rabih Atallah – Senior Manager, Commercial Banking, SME Market (National Bank), as well as by Anthony Ferrara – Senior Manager and Market Lead, Life Sciences and Health, Business Banking (National Bank).
...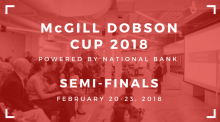 After receiving many compelling applications, the list has been narrowed down to 84 startup teams who will have a chance at advancing to the final round of the 2018 McGill Dobson Cup powered by National Bank.
The finals of the Dobson Cup are scheduled for March 28.
Read more
How can food help narrow the social divide in our cities?
Learn more about how Desautels students are behind some of the most meaningful social enterprises.
...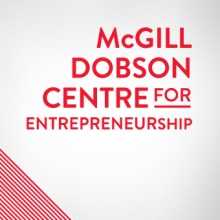 The Dobson Chronicles interviews Yves Guillaume A. Messy, a Political Science student and the Founder of the insurance startup QGS Technologies Ltd., on his background, company, entrepreneurship and the interesting influences in his life.
Starting with an early interest in global affairs and engineering, Yves taught himself programming and translated learned political science models into Big Data and Artificial Intelligence-related analytics.
...
The McGill Dobson Centre for Entrepreneurship has inaugurated a collaborative space where members of McGill's startup ecosystem can come together and work on their early stage projects.
Located at 3430 McTavish, the space is available on a drop-in basis every weekday between 10:00 am and 5:00 pm.
Read more
The McGill Dobson Centre for Entrepreneurship has wrapped up its series of Demo Days this fall. Mirroring the growth of its X-1 Accelerator program, the locations of this year's Demo Days have also expanded to include New York City and Toronto, in addition to the usual Montreal, Boston, and San Francisco destinations.
...
Natasha Saviuk, BSc'12, a doctoral student at McGill, and Shonezi Noor, BCom'14, had the same target audience in mind when they pitched startup ideas at McGill's Dobson Cup. They joined forces and today, with the support of the McGill Dobson Centre for Entrepreneurship, their startup Will + Zack has clients in Canada and the U.S., and they've only just begun.
...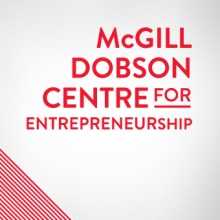 The McGill Dobson Centre for Entrepreneurship recently invited two McGill startups, Dialysave and MYOVUE, to share their insights as successful medical startups, including the story of their founding and the impressive progress they have made under the guidance of the Dobson Centre.
Read more on The Dobson Chronicles