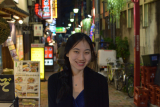 Kelsey S. Inouye JD, MSc, MEd
Institutional/Policy Analyst, Kapiolani Community College, University of Hawaii
Kelsey S. Inouye is an Institutional/Policy Analyst at Kapiolani Community College in Honolulu. She holds a JD and an MEd from the University of Hawaii, as well as an MSc in Higher Education from the University of Oxford. Her research focuses on writing development and scholarly identity of doctoral students.   
Web: http://ofie.kapiolani.hawaii.edu/
Address: 4303 Diamond Head Road, Honolulu HI 96816
Email: inouyeks [at] gmail.com, inouyeks [at] hawaii.edu