---

McGill University's Institute of Air & Space Law and its research arm, the Centre for Research in Air & Space Law, have a rich history of education, public service and scholarship.
Since 1951, the Institute has trained 1,000 specialists in air and space law from all over the world. Today, the IASL is undoubtedly the most prominent and decorated educational and research institution in the world in the domain. Its loyal graduates today serve in some of the highest legal positions in the bar, the industry, and governmental institutions in some 120 nations around the world. Read more...
---
Latest news and announcements
Take a look at our the Events page for past and upcoming events, and the Press Room for past activities and news.
---
---
IASL Graduate Dr. Jiefang Huang appointed Director of ICAO Legal Bureau
Dr. Jiefang Huang, graduate of the Institute of Air and Space Law, was appointed the Director of the ICAO Legal Affairs and External Relations Bureau We are proud to announce that former graduate of the Institute, Dr. Jiefang Huang, has been appointed as the new Director of Legal Affairs and External Relations Bureau of the International Civil Aviation Organization (ICAO).
Dr. Huang completed his LLM degree at the IASL in 1985, and began his career as an international civil servant at ICAO, the Montreal-based United Nations organization that regulates the safety and security of international civil aviation.  In addition to his many professional commitments, Dr. Huang is actively engaged in the activities of the Institute and its alumni association. He has taught courses at the Institute, and throughout the years has also provided thesis supervision to many of our students. In addition, Dr. Huang is a member of the Editorial Board of the Annals of Air and Space Law, and an External Member of the Board of the Centre for Research in Air and Space Law.  In 2009, Dr. Huang received his doctorate in law from Leiden's International Institute of Air and Space Law. 
As the Director of ICAO's Legal Bureau, Dr. Huang will play an instrumental role in providing advice and assistance to the ICAO Secretary General and ICAO Member States on matters relating to international law, air law, and other key administrative and procedural matters. This well-deserved appointment is a testament to Dr. Huang's valuable contributions and dedication to ICAO and the global aviation community.
Originally from China, Dr. Huang is one of many of our graduates who, after obtaining their degree at the IASL, go on to occupy prominent positions at the national and intergovernmental level.  Current ICAO Council President, Dr. Olumuyiwa Benard Aliu, is also a graduate of the Institute. In the very words of Dr. Huang, the Institute is "the jewel of the crown in this field", and a degree from McGill is "regarded as a precious currency fluidly circulated in [the] aviation world".
We wish Dr. Huang every success in his new role at ICAO!
---
New course in Aircraft Finance Law offered to IASL students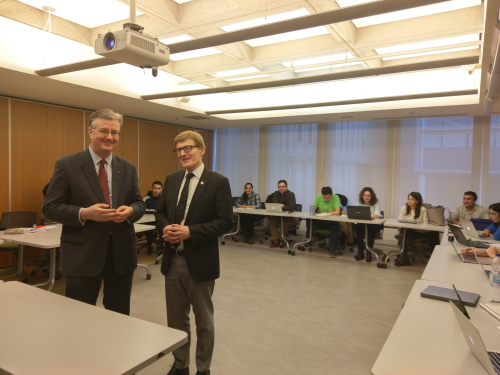 Dr. Donal Hanley together with Institute of Air and Space Law Director Professor Brian Havel. Dr. Hanley inaugurated a new course in Aircraft Finance Law at McGill.
The McGill Institute of Air and Space Law welcomed Dr. Donal P. Hanley last month to teach a new specialised course in Aircraft Finance Law. Dr. Hanley has 25 years of experience in aircraft leasing and finance law in Ireland, the United Kingdom, and the United States. He is Vice President, Legal, of Aviation Capital Group (ACG), a large aircraft leasing company headquartered in Newport Beach, California, and is Managing Director of its Irish subsidiary, ACG Aircraft Leasing Ireland Limited, based in Dublin. He also serves as a director on the board of ACG's other Irish and Swedish subsidiaries and was a founder of ACG's joint venture in Egypt, CIAF Leasing.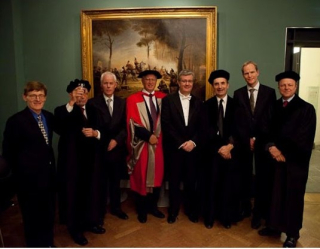 Dr. Donal Hanley (white bowtie) celebrating the successful defence of his PhD in the presence of, among others, IASL Director Professor Havel (far left), the late Dr. Donald Bunker (in red), IIASL Director Professor Pablo Mendes de Leon, and Cologne Institute of Air and Space Law Director Professor Stephan Hobe.
According to Dr. Hanley, "aircraft finance is one of the most dynamic aspects of global aviation at the moment and likely will remain so for the foreseeable future. Long seen more as a part of finance law, with the majority of commercial aircraft being held pursuant to a lease or financing, aircraft financing law has now evolved into an integral part of air law. In this course, I try to focus students initially on the business concepts of aircraft finance, and then transition from there to the legal structures that implement those concepts."
As well as holding professional qualifications in each of the jurisdictions where he has worked, and also MBA and LLM degrees, Dr. Hanley received his PhD in international aircraft finance law from Leiden University's International Institute of Air and Space Law (IIASL). The IASL Director, Professor Dr. Brian F. Havel, served with the IIASL Director, Professor Dr. Pablo M. J. Mendes de Leon, on the committee that conducted Dr. Hanley's defence of his PhD dissertation.
We are delighted that Dr. Hanley has joined our teaching faculty. For many years our lectures in aircraft finance law were taught with great enthusiasm and panache by the late Dr. Donald H. Bunker (whose obituary appears on this site), who held a DCL from the Institute and who championed aircraft finance law as a key part of our air law curriculum. We believe that Dr. Hanley, also a gifted lecturer, will be a most worthy successor to Dr. Bunker.
---
MILAMOS Project enters Phase II and embraces more global partners
We are pleased to announce that the project to draft the McGill Manual on International Law Applicable to Military Uses of Outer Space (MILAMOS) has matured and is entering a new phase of expansion. After over 18 months of intense drafting and four consensus-forming and government engagement workshops in various parts of the world, Phase II of the MILAMOS Project will see a streamlining of the work process, and intensified engagement with new global partners succeeding the University of Adelaide and the University of Exeter, which have recently elected to conclude their participation in the Project. These new McGill-led efforts will ensure the Project steadily progresses toward maintaining the original objectives and scope of the Project as well as its the scheduled completion date of 2019.
With support from several international partners and stakeholders, the MILAMOS Project was originally conceived and publicly inaugurated at McGill University in May 2016. The Project aims to develop a widely-accepted manual that clarifies the fundamental rules applicable to military uses of outer space by both States and non-State actors in times of peace, in periods of rising tensions, and in times of armed conflict. From the outset, the Manual was never intended to be drafted solely for the benefit of military operators "in the field". The McGill Manual was conceived as a comprehensive expression of the lex lata (the law as it is) for use by a wide spectrum of space operators and stakeholders with an interest in the security and sustainability of space activities, rather than solely as a field manual for military operations. The value of the Manual will be its relevance and salience to States, militaries, private space actors, civil society, academics and other relevant stakeholders with an interest in the orderly conduct of space activities, and that original conception will be sustained in Phase II of the MILAMOS Project.
The Project has already gathered the support and endorsement of various stakeholders and governments around the world, and has gained widespread attention in the international media. To date, McGill University has played a leading role in garnering the necessary financial and human resources to initiate and sustain the MILAMOS Project. An International Group of Experts, comprised of individuals with recognised expertise who are representative of the international community at large, is already actively involved in the drafting of the McGill Manual, and rule-drafting workshops and State engagement events have been held in Canada, Australia, India, and the United States of America. Having provided funding of over $400,000 in the MILAMOS Project to date, McGill remains fully committed to the original vision and mission of the McGill Manual to be a neutral, inclusive, innovative, interdisciplinary, and representative clarification of the applicable law that enjoys the endorsement of States from around the world. The Government of Canada, the Social Sciences and Humanities Research Council of Canada (SSHRC), ROOM, The Space Journal, and the Erin JC Arsenault Fund at McGill University have been instrumental in providing most of the resources for the MILAMOS Project.
A truly global partnership of stakeholders and representation of perspective will be crucial to the ultimate success and acceptance of such an ambitious international endeavour. New partners, including institutions and expertise from Russia, China and other non-Western States, are actively being engaged to ensure the McGill Manual accurately captures the nuances and perspectives of different States and stakeholders, and is reflective of the wide spectrum of interests and concerns relating to the military uses of outer space. Only by embracing partners around the globe will the manual-drafting and consensus-forming process and the resultant Manual achieve the intended objective of being an accepted, authoritative and instrumental document in shaping the security and sustainability of activities in outer space.
More information on the progress and developments surrounding Phase II of the MILAMOS Project will follow shortly.
Prof. Dr. Ram S. Jakhu
MILAMOS Project Director
---
Erin J.C. Arsenault Postdoctoral Research Fellowships for 2018-19

As in the previous six years, the Centre for Research in Air and Space Law (CRASL) of the Faculty of Law at McGill University, Montreal, Canada, intends to appoint one or two Postdoctoral Research Fellow(s) during the 2018-2019 academic year.
The Postdoctoral Research Fellowship(s) will be funded by the Erin J C Arsenault Trust Fund and the appointment(s) shall be for an initial duration of one year with a possibility of renewal for a second year. The Postdoctoral Fellow(s) will work as part of a research team at the Centre for Research in Air and Space Law under the leadership and supervision of Professor Dr. Ram S. Jakhu, Project Director of McGill's MILAMOS Project.
Principal objective of the Postdoctoral Research Fellowship program is to train the next generation of Space Law professionals interested in pursuing academic careers in Space Law. Accordingly, in addition to completing a major research project (described below), successful candidates, as members of the CRASL team, may also be required to participate in all activities of the CRASL and the Institute of Air and Space Law (IASL).
The deadline for receiving applications is 31 March 2018. This full-time position will begin on 1 August 2018 and will last until 31 July 2019. For more information on the Erin J C Arsenault Postdoctoral Research Fellowship 2018-2019, please see the attached document.
---
IASL's New Colloquium Series in Air and Space Law
The new IASL Colloquium Series[1] in Air and Space Law has hosted four events in the 2017-2018 academic year.
Former U.S. Under Secretary of Transportation for Policy, Jeffrey N. Shane with IASL Director Professor Brian Havel.On 26 October 2017, John R. Byerly, former U.S. Deputy Assistant Secretary for Transportation Affairs at the Department of State, presented insights into the conduct of aerodiplomacy from his vantage point as the former chief of air services negotiations for the U.S. State Department.  Mr. Byerly particularly shared his experience of the lengthy process that led to the 2007 U.S./EU Air Transport Agreement which, together with its 2010 Protocol, remains the most ambitious open skies bilateral agreement ever signed.
On 9 November 2017, air transport consultant Chris Lyle, whose career at the Montreal-based International Civil Aviation Organization (ICAO) encompassed several key portfolios including economic regulation, did his remarkable modified "pecha kucha"[2] slide presentation (i.e., 60 slides for about 60 seconds each) on Brexit and aviation. The UK Government, it seems, remains at war with itself about the shape and consequences of the UK's future relationship with the European Union and air transport is caught in that vortex of indecision and uncertainty.
In the Winter Semester, on 25 January 2018, the general counsel of the Montreal- and Geneva, Switzerland-based International Air Transport Association (IATA) and former U.S. Under Secretary of Transportation for Policy, Jeffrey N. Shane, enthralled students with his "insider" perspective on IATA's litigation docket, which currently includes two amicus briefs filed with the U.S. Supreme Court. He also laid out the breadth of IATA's landscape of law-related activities and initiatives including its standard-setting machinery (the e-ticket, for example).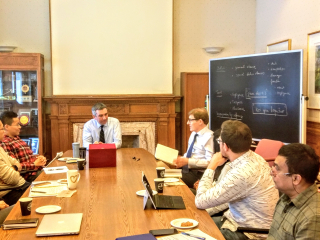 Participants attending the colloquia of Mr. Michael Gill, IATA's Director for Aviation Environment and Executive Director of the Air Transport Action Group (ATAG).
Most recently, on 8 February 2018, we were joined by Mr. Shane's fellow Geneva-based colleague, Michael Gill, who is both IATA's Director for Aviation Environment and also Executive Director of the aviation industry's cross-sectoral coalition for environmental sustainability, the Air Transport Action Group (ATAG). Mr. Gill gave our students a "deep-dive" exposure to the emergence and planned introduction of the "Carbon Offsetting and Reduction Scheme for International Aviation (CORSIA), the multilateral aircraft emissions reduction measure that has been adopted by ICAO.
More Colloquia will follow, including speakers discussing future convergences between the governance regimes for air and space.
More pictures from the Colloquia to date can be found on the Events section of the website.
--
[1] Colloquium: a conversation in an academic setting in which specialists address a specific topic and answer questions relating to that topic; distinguished from a Symposium, originally a drinking party but now used to describe a more formal academic conference in which multiple scholarly papers are presented and discussed; a Seminar is also a more formal academic setting, usually involving the presentation of a single scholarly paper; in our IASL Colloquium, if the speaker is scheduled beyond 5 p.m., a glass of wine is usually served, thereby blending the Colloquium with the original idea of the Symposium
[2] "Pecha kucha" is a PowerPoint presentation methodology that limits the speaker to 20 slides shown for 20 seconds each.  See http://www.pechakucha.org/.  Too inflexible (and gimmicky) for law-focused presentations, in our view. We much prefer Mr. Lyle's approach.
---
In Memory of Dr. George S. Robinson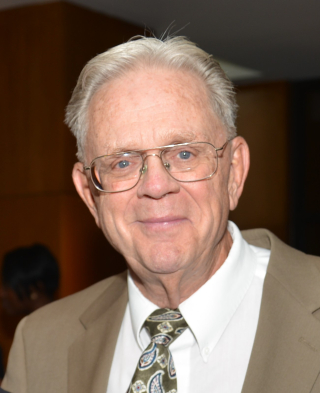 With tremendous sadness, we regret to announce that Dr. George S. Robinson passed away on 4 February 2018.
For over four decades, Dr. Robinson dedicated himself to public service, the space law profession, and education. The recipient of the first Doctor of Civil Law (DCL) degree in space law awarded by the McGill Institute of Air and Space Law, Dr Robinson worked as legal counsel at the Smithsonian Institution in Washington DC. Dr. Robinson worked tirelessly to advance interest and research in international and national space law and policy, and is well-known for organising conferences on forward-looking legal and practical topics in space. As a reflection of his brilliance and foresight, and underpinned by the strong belief that biological evolution and space migration are instrumental to the survival of humankind, he conceived and initiated a unique symposium addressing legal and bio-medical aspects of a future space society.
In his long, rich and illustrious career, Dr. Robinson also served as an international relations specialist at the National Aeronautics and Space Administration (NASA), where he was Desk Officer for developing collaborative research and educational programmes with Canada, the United Kingdom, Japan, Spain, and Pakistan. Upon leaving the Smithsonian Institution in 1995, Dr. Robinson established (with his sons and daughter-in-law) the firm of Robinson & Associates Law Offices, P.C. (now Robinson and Robinson, LLC), a domestic and international law practice specialising in the laws of corporations, intellectual property and space commerce. Despite his professional commitments, Dr. Robinson served on the board of directors of various science research facilities, foundations, and hospitals, and dedicated himself to educating and inspiring future generations. Throughout the years, Dr. Robinson taught and lectured in law and business at numerous universities in the United States and elsewhere. He authored over 100 articles and books on a broad range of subjects, including public and private international law relating to space activities, space commerce, and aviation law; science/technology law, maritime law and policies relating to oceanography and limnology; the law relating to conservation of land, critical habitats, and animal and plant species; terrestrial and oceanographic environmental law, and business law. Dr. Robinson was a prolific contributor to the IASL's flagship journal, Annals of Air and Space Law, producing many insightful and enriching articles that outline philosophical ideas and visions of the space governance system that are well beyond our time.
Even after leaving the IASL, Dr. Robinson was a proud alum and remained a great friend and supporter of its mission and work. He found great pleasure in interacting with students at the Institute, often going to great lengths to assist emerging scholars and professionals with their research and connecting their with opportunities in the aviation and space law fields. In recognition of Dr. Robinson's unique contributions to the study of space law, the Institute established the George S. and Ann K. Robinson Prize for Excellence in Space Law to support innovative and original contributions to space jurisprudence. Dr. Robinson was one of an elite group of space lawyers who was far ahead of his peers in imagining and envisioning life and human evolution in the 21st Century and beyond.
George Robinson was a mentor and friend to all of us at the IASL. The international space law community has lost an extraordinary and visionary scholar. We extend our most sincere condolences to his family. May he rest in peace.
Professor Brian Havel
Director, Institute of Air and Space Law
---
The McGill Faculty of Law magazie, Focus, carried an interview with the late Dr. Robinson, who offered some anecdotes about his life at McGill and what inspired him to pursue studies in air and space law.
In memory of Dr. Robinson and his tremendous contributions to education and the study of space law, you can support the George S. and Ann K. Robinson Prize for Excellence in Space Law using the attached donation form.
---
Remembering Donald H. Bunker
It is with great sadness that we announce the passing of our dear colleague Professor Dr. Donald Harry Bunker, on January 25, at the age of 77 in his home, following a brief illness. As Adjunct Professor, Dr. Bunker was always happy to return to Montreal every year and teach Aviation Finance at the Institute, where he declared he had "so many livelong friends (...) which [brought] [him] back all the time". He will be greatly missed by his family, friends and colleagues.
---
The 11th McGill University/PEOPIL Conference on International Aviation Law, Liability, Insurance and Finance
19-20 October 2018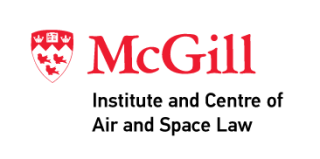 The Stephen's Green Hibernian Club
9 St. Stephen's Green, Dublin 2, Ireland
We look forward to welcoming you in October 2018. More details on registration and the programme will be available in due course.
This event will bring together world-Leading aviation liability, insurance & finance experts to address the following topics:
Comparative Jurisprudence under the Warsaw System and the Montreal Convention of 1999 
Liability of Airlines, Airports, Maintenance Providers & Air Navigation Service Providers (ANSPs)
Products Liability of Manufacturers Aircraft, Engines & Component Parts
Governmental Liability
Challenges of Settlement
Consumer Protection Regulation & Litigation
Unruly Passengers and Liability for Acts of Unlawful Interference
Accident Investigations, Annex 13 & Criminalization of International Aviation
Regulation of Drones and Liability of Operators
Aircraft Leasing and Finance
In addition, the conference will host a luncheon and reception/dinner to facilitate networking between attorneys, insurers, air carriers, manufacturers and governmental representatives.
Prior conferences
Toulouse 2008
Montreal 2009
Amsterdam 2010
Montreal 2011
London 2012
Montreal 2013
London 2014
Montreal 2015
Edinburgh 2016
Montreal 2017
---
IASL 2017 Holiday Party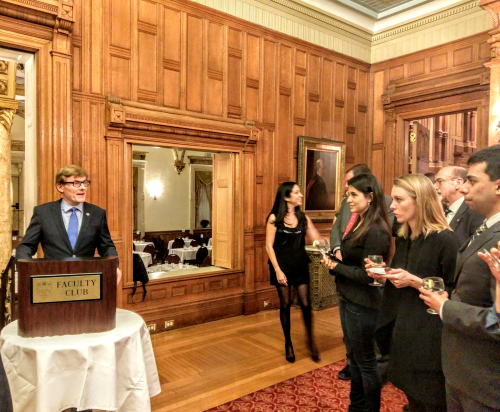 IASL Director Professor Brian Havel speaking at the IASL Association Holiday Party.
The Institute of Air and Space Law Association (IASLA), the Institute's very active alumni network, welcomed over 80 guests to its annual Holiday Party at the McGill Faculty Club on 1 December 2017. The Holiday Party is one of the Institute's great traditions and is also a wonderful opportunity for current LLMs, DCLs, Certificate students and post-docs to mingle with their predecessors at the IASL.
Short speeches were given this year by Jimena Blumenkron, IASLA President, Dr. John Saba, IASLA Secretary,, and Professor Brian F. Havel, the new Director of the IASL.  As well as perusing the usual collection of photos from the reception, we thought website viewers might like to read the following extract from the new Director's remarks:
Bonsoir à tous:
As well as our alumni, we are joined by the members of the IASL LLM and Certificate class of 2017-2018 – a class of 23 students from 18 countries, a most impressive group of individuals including a current member of the ICAO Council
This is a time of great renewal in the IASL as we consolidate existing programs and introduce new initiatives about which you will be hearing more during the coming year.
Next term Donal Hanley, one of the world's top aircraft finance lawyers, will join the adjunct faculty, in effect succeeding our loyal friend Donald Bunker, to teach our new course in Aircraft Finance Law.
The Annals of Air and Space Law, our flagship publication now in its 41st year . . . will change to a twice-yearly format, and the first volume of the new-look Annals will appear in mid-year 2018 under the stewardship of our terrific new editor, Bruno Savoie, who promises to get it all done by July 31st, the day before he starts as an associate at  Toronto law firm BLG.  All of the Annals are now available online for the first time thanks to the efforts of David Chen, the newly-appointed Executive Director of our research arm, the Center for Research in Air and Space Law
The IASL alumni association is working with us to establish a formal internship program for our students and already IASL graduate Juliana Scavuzzi has organized a new IASL internship for next semester at the Airports Council International headquarters in Montreal.
I am delighted to be collaborating with your very dedicated IASLA President Jimena Blumenkron to update all of IASLA's alumni information across five continents and to reach out to all members of the Association on a regular basis.  The contacts database is always expanding – for example, today we welcome Marios Seretis, LLM graduate and shortly to be a DCL graduate, who is now working as legal counsel at the Star Alliance headquarters in Frankfurt, Germany, a true air law career for the 21st century.
And please look out for other initiatives coming in 2018, our  67th year of continuous operation, including the launch of the new IASL Foundation Advisory Board, the coming announcement of new FedEx research fellowships, a new intramural moot court competition, a new Colloquium in Air and Space law which began in the fall semester with former U.S. top State Department official John Byerly, chief U.S. negotiator for the historic 2007 U.S./EU open skies agreement, a new part-time LLM program for which our friends at ICAO and IATA have long advocated, year two of our massive space law project, the McGill Manual on the Military Uses of  Outer Space (MILAMOS), a number of international conferences, and much more.
For more pictures, please visit the Events page.
---
IASL Student Winner of the 2017 IAWA Scholarship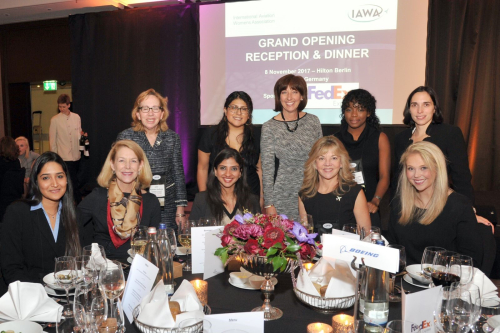 We are proud to announce that current IASL student Ms. Swarathmika Kumar is the winner of the 2017 International Aviation Womens Association (IAWA) Scholarship. Part of IAWA's mission is to promote the professional development of women in aviation and aerospace and develop the next generation of leaders in these bourgeoning industries. The IAWA Scholarship is awarded based on merit to candidates majoring in law, management business or finance and who have a true passion for aviation.
Swarathmika hails from Bangalore, India, and is currently pursuing her L.L.M in Air and Space Law at the McGill Institute of Air and Space Law. She obtained her law degree at the National University of Advanced Legal Studies (NUALS), Kochi, India. During her time at law school, Swarathmika represented her university and won accolades at many national and international moot court competitions. She was a semi-finalist at the Leiden Sarin International Air Law Moot Court Competition in 2016 at Jakarta. She pursued various internships alongside her legal education to gain a wider exposure to the legal field including those at the offices of Osborne Clarke, Cologne, and the Indian Institute of Management, Bangalore. She also served as a member of the Editorial Board of the NUALS Law Journal from 2013-2015.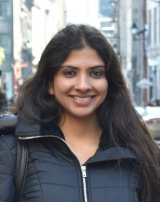 "I am immensely grateful to have received the IAWA Scholarship this year", Swarathmika said. "Attending [the IAWA] conference in Berlin in November was a truly inspiring experience. The conference was an opportunity to meet women with exceptional careers in aviation as well as the other scholarship recipients."
Swarathmika expects aviation to play an important role in international relations and the prospect of being an early contributor in this field excites her intellectually. "Being able to interact with these women and learn from them was truly enriching and I am certain that this experience will play an important role in shaping my career in aviation." Swarathmika is looking forward to acquiring experience in policy issues in this emerging domain, and hopes to channel this expertise towards building a career as a legal expert and policy maker in the larger multi-national context of aviation law.
---
The Public International Law Class of 2017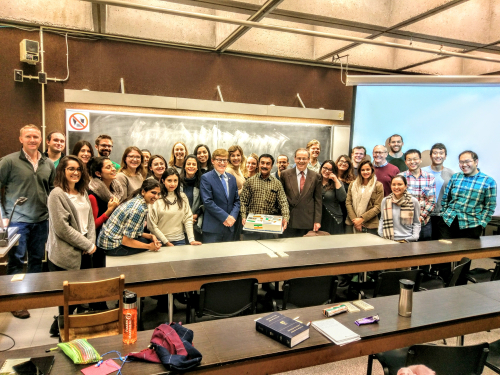 Students celebrate the conclusion of Professor Brian F. Havel's inaugural course in Public International Air Law on 6 December 2017. Joined by his teaching colleagues Ludwig Weber and David Chen, Professor Havel, the new IASL Director, treated the students to a giant chocolate layer cake decorated with the national flags of the 18 nations which are represented by the students in the IASL class of 2017-18.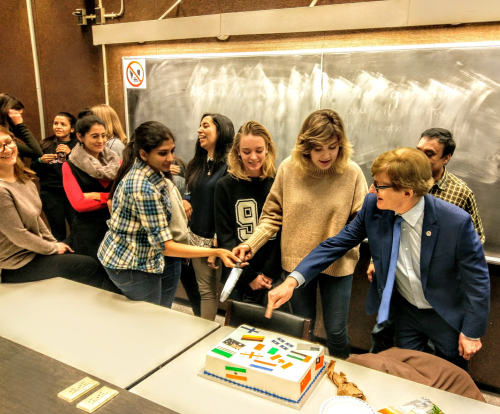 ---
Appointments of the new Executive Director of the Centre for Research in Air and Space Law and the new Editor of the Annals of Air and Space Law
The Institute is pleased to announce the appointment of Mr. Kuan-Wei (David) Chen as the new Executive Director of the Centre for Research in Air and Space Law (CRASL) and Mr. Bruno Savoie as the new Editor of the Annals of Air and Space Law.
Mr. Chen (LLM'12) is Sessional Lecturer at the Faculty of Law of McGill University and the Deputy Project Manager of the project to draft the McGill Manual on International Law Applicable to Military Uses of Outer Space (MILAMOS).  A former Boeing Fellow in Air and Space Law, for the past five years Mr. Chen has fulfilled various functions at the CRASL, including serving as the Editor of the Annals (2012-2015) and later as the Director of Publications.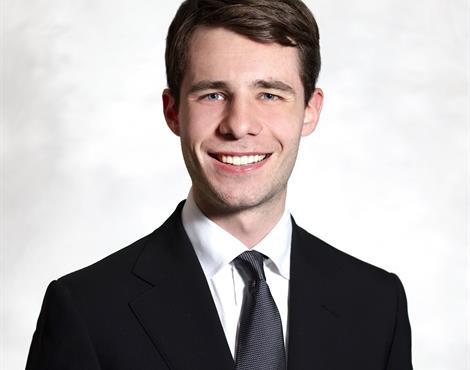 The new Editor of the Annals, Mr. Savoie, served for more than a year as an Assistant Editor of the Centre's flagship publication during his time as a law student at McGill. A native speaker of French and English, Mr. Savoie has worked at law firms in Singapore and Toronto, and was a Research Assistant for the book Global Space Governance: An International Study published by Springer in 2017.
The dual appointment of these promising talents to key positions at the CRASL is part of the strategy of the new IASL Director, Professor Brian F. Havel, to revitalise the Centre and to solidify McGill's status as the world's foremost research and educational institution in the fields of air and space law.  Among the innovative objectives that will be realised in the coming period is the digitalisation of the Centre's publications, which recently began with a partnership with renowned publisher WS Hein.  Further, to increase the reach and accessibility of the world's foremost bilingual journal in the domain of air and space law, the Annals will become a biannual publication starting with its next volume in mid-2017.
---
IASL Alumni Participate in United Nations/UAE  High Level Forum 2017
(from left to right) IASL alumni Dr. Roy Balleste, Ms. Michelle Hanlon, Mr. Kuan-Wei Chen and Mr. Humaid Alshamsi at the UN/UAE High Level Forum
On 6-9 November 2017, the second United Nations/United Arab Emirates (UN/UAE) High Level Forum was held in Dubai. Mr. Kuan-Wei Chen, the newly-appointed Executive Director of the Centre for Research in Air and Space Law, as well as two alumni of the Institute of Air and Space Law, Ms. Michelle Hanlon and Dr. Roy Balleste, each presented at the High Level Forum.
Under the theme "Space as a Driver for Socio-Economic Sustainable Development", the High Level Forum was organised jointly by the United Nations Office for Outer Space Affairs and the United Arab Emirates Space Agency.  It is the second in a series of fora aimed at providing the world's space community with a platform for exchanging ideas and addressing various cross-sectoral issues and challenges that have a bearing on space activities. The High Level Forum attracted over 150 participants from around the world, among whom were subject matter experts in academia, policy-makers and regulators, space entrepreneurs, and space scientists and engineers.  The Forum was instrumental in creating interaction between stakeholders who are involved in various economic, environmental, social, policy and regulatory dimensions of space in pursuit of global sustainable development.

In the run-up to UNISPACE+50, the High Level Forum brought together ideas and presentations related to the established pillars of Space Economy, Space Society, Space Accessibility and Space Diplomacy. Together, these four pillars form the foundations of the Space 2030 Agenda, which is aimed at identifying and strengthening the contribution of space activities to fulfilling the UN Sustainable Development Goals. The Forum was an opportunity to explore the interactions and interlinkages between these four pillars and concluded with several observations and recommendations in preparation for UNISPACE+50 and beyond.

Mr. Chen was invited to speak first in the panel on Space Diplomacy, which with the participation of nine other prominent speakers, focused on the need for regulatory frameworks and mechanisms at national, regional and global levels to further the peaceful exploration and use of outer space. Mr. Chen's presentation, entitled "Improved Global Space Governance and New Opportunities for the Future", draws on the Global Space Governance Study undertaken and led by the Centre for Research in Air and Space Law. Pursuant to the 2014 Montreal Declaration on Global Space Governance, the Study is an international and interdisciplinary examination of the drivers of space activities. The proliferation of space activities and actors in recent years has led to a recognised need to identify and address issues, challenges and opportunities that space applications and space activities present, and the need to establish a governance regime that will ensure the peaceful and sustainable exploration and exploitation of outer space for the benefit of all humankind. The presentation described the origins and rationale for the Study, and offered the Forum some concrete examples and suggestions of how the Global Space Governance Study will be useful in informing the discussions surrounding UNISPACE+50, which will be taking place at the UN Office for Outer Space Affairs in Vienna in June 2018.  Indeed, in collaboration with UNOOSA, efforts are currently under way to ensure that all delegates at UNISPACE+50 will be provided with a copy of the Study.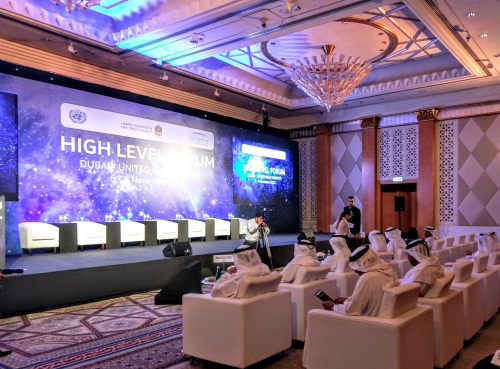 Speaking on a panel outlining international initiatives and case studies aimed at securing the use of space for the benefit of humankind, Ms. Hanlon presented on an innovative global endeavour to preserve the historic landing sites on the Moon and beyond. Current law governing outer space is silent about the conservation of lunar landing and similar sites in outer space, which are a fundamental part of human heritage. These sites are unique and irreplaceable cultural and scientific resources with scientific and archaeological value deserving of protection from intentional or accidental disturbance or desecration.

Ms. Hanlon is co-founder of For All Moonkind, Inc, a non-profit organisation working with public institutions and private companies around the world to preserve humankind's first footsteps in outer space. For All Moonkind boasts a volunteer of lawyers (including fellow McGill alums Humaid Alshamsi, Roy Balleste, Andrea Harrington and Ranjana Kaul), policymakers (including McGill alum Gilles Doucet), archaeologists, historians and communications experts from around the globe working together to educate the public about the need to preserve our cultural heritage in space, as well as the importance of space in general.  Professor Ram Jakhu was one of the first members of the Leadership Board of the organisation, which is also preparing a Convention on the Preservation of Human Heritage in Outer Space for consideration by the United Nations and the international community. 
The third presentation by IASL alumn Dr. Balleste focused on the concept of "Thor's Hammer" and the legal implications of anti-satellite weapons and cyberspace activities on human development in the final frontier.
---
MILAMOS Workshop III held in Colorado Springs, United States of America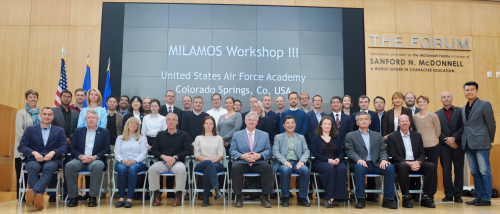 The third rule-drafting and consensus-forming workshop of the Project to draft the McGill Manual on International Law Applicable to Military Uses of Outer Space (MILAMOS) was held on 9-13 October 2017 at Colorado Springs in the United States of America.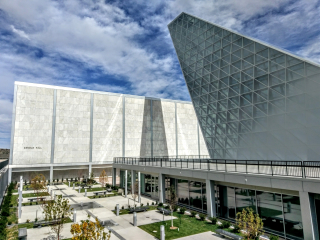 Attended by over 40 experts and researchers involved in the Project, MILAMOS Workshop III was held at the United States Air Force (USAF) Academy. The plenary deliberations and closed research group meetings took place in the impressive Polaris Hall, a modern tower pointing directly towards Polaris, the North Star, symbolising the unwavering commitment of the USAF to good leadership and integrity. Polaris Hall was the result of public-private partnership and support coming from all sectors of society, and built to function as a forum bringing together instructors, cadets, military leaders, and public and private officials. The symbolic overtures of the impressive setting of Workshop III echoes the vision and values of MILAMOS—which are to bring together and promote interaction and dialogue between legal and technical experts, academics, military officers, government officials, and other stakeholders in the private and public sector who commonly believe in the importance of a manual that clarfies the law applicable to the whole spectrum of military activities in outer space.
Among the rules and issues discussed at MILAMOS Workshop III was what constitutes "military space activity". The precise definition is crucial in delimiting the scope of the McGill Manual, and will no doubt form the foundation of many rules in a manual that covers the full spectrum of permissible military activities and operations in peacetime, in times of rising tension, and during armed conflict. Other rules presented at plenary for discussion and adoption by the International Group of Experts include rules and associated commentary on:
the application of international law to outer space,
the meaning and scope of "national space activities" under Article VI of the Outer Space Treaty,
the principle of non-intervention, and
what constitutes an international armed conflict in the context of outer space.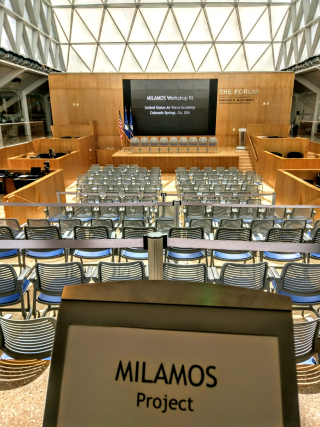 While the USAF Academy hosted Workshop III, in the interest of maintaining the integrity and neutrality of the manual-drafting process the USAF and US Government neither provided input on the contents of the rules nor influenced the discussions that took place. The Academy's decision to host was based only on its recognition, in common with many stakeholders and institutions around the world, of the great importance and value of the work undertaken by the MILAMOS Group of Experts.
Observers from the USAF Academy and officers from the USAF were present at some plenary sessions to gain insight into the manual-drafting and consensus-forming process.  Several Academy cadets were also present as Rapporteurs, which gave them a first-hand opportunity to watch experts and practitioners discussing and forming a consensus on pertinent and cross-connected issues of international space law, the law governing the use of force, and international humanitarian law.
Ms. Cynda Arsenault, the President of the Secure World Foundation, a Supporting Institution of the MILAMOS Project, attended the Workshop as an Observer. A substantial proportion  of the seed money to launch the Project (in the order of $300,000) originated from the Erin JC Arsenault Fund at McGill University. The Fund was established to promote research in strengthening the rule of law and global space governance and space security. In addition, a high-level Observer from the People's Republic of China attended some of the proceedings, and was present to meet members of the Project Management Board and to discuss opportunities for greater involvement of Chinese participants and institutions. Since the launch of MILAMOS in 2016, the engagement of States and stakeholders from leading spacefaring nations and emerging space powers has always been a primary objective of the Project leadership.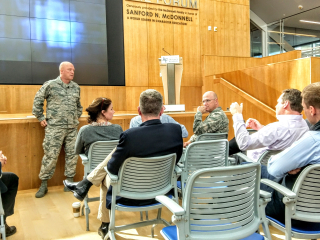 General John Raymond, Commander of the US Air Force Space Command, addressed the MILAMOS participants in an inspiring speech.
Welcoming participants to the USAF Academy, Colonel Linell Ami Lentendre, Head of the Department of Law, and Vice Superintendent Col. David A. Harris Jr., each underlined the Academy's pleasure and honour in hosting a gathering of experts who represent not only several legal disciplines but are also representative of diverse perspectives across the globe.  Keynote speaker General John W. "Jay" Raymond delivered an inspiring address to the MILAMOS Group of Experts. The four-star general is the Commander of the US Air Force Space Command, located at nearby Peterson Air Force Base, and graciously broke from his busy schedule to commend the MILAMOS Group of Experts for their collective efforts.  Describing the Group most positively as "enlightened space professionals", General Raymond noted that preserving the space domain for the common good requires States and people around the world to partner together.  It is not in the interest of any State to use military force  in space, but space has the potential to become a domain for warfare, just like any terrestrial domain. In the General's view, a manual like MILAMOS is essential to preserving peace and security in a domain vulnerable to a whole variety of challenges. Earlier this year, General Raymond was present at a space conference in Israel and his talk on emerging threats for space assets immediately preceded a presentation on the MILAMOS Project.
In sum, MILAMOS Workshop III benchmarks the tremendous progress that has been made to date.  While challenges in drafting a manual that is relevant for practitioners in the field and that is also accessible for a broader audience were identified, the MILAMOS Group of Experts is hopeful that the McGill Manual is on a solid track to completion.  The next workshop will be held in Montreal, Canada, and will again be hosted by McGill University, one of the Founding Institutions of the MILAMOS Project.
---
McGill Co-Hosts Major ABA Conference in Montreal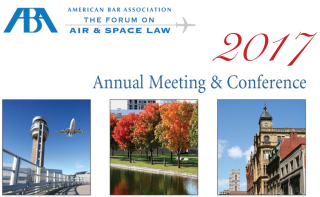 On 14 and 15 September 15 2017, the McGill Institute of Air and Space Law (IASL) co-hosted the Annual Meeting of the American Bar Association (ABA) Forum on Air and Space Law in the Institute's home city of Montreal. The McGill/ABA collaboration is a triennial event and is one of the most significant events in the Institute's calendar. The collaboration was initiated by former IASL Director Professor Dr. Paul S. Dempsey, who continues to represent the Institute in working with our ABA colleagues to organise the Montreal meeting.
Nearly 200 delegates gathered for two days of intensive discussion of aviation and space issues ranging from the Trump Administration's likely approach to aviation infrastructure to a robust discussion of labor/management relations in the global air transport industry. ICAO Secretary-General Dr. Fang Liu spoke in her keynote address about the Organization's work on establishing international principles for the regulation of unmanned aircraft systems (so-called "drones") and sub-orbital aircraft, and also announced a new initiative to gather young aviation professionals at a summit in ICAO's headquarters later this year. The Institute also played its part in the proceedings. IASL Professor and former Director Ram Jakhu joined in a lively expert panel on the challenges of developing new legal regimes for space law. Professor Dr. Paul Dempsey chaired an international panel on air traffic rights and had some provocative questions on the current policy debate on airline subsidies.  IASL master's, doctoral, certificate, and exchange students also attended many of the panel sessions and posed a variety of questions from the floor. 
Newly-installed Institute Director Professor Brian F. Havel delivered the first luncheon keynote address of the event, focusing on the aviation issues presented by the impending departure of the United Kingdom from the European Union ("Brexit"). Professor Havel noted the UK Government's own uncertainty about what Brexit will entail, and forecast several dramatic consequences for UK airlines if a "hard" Brexit were to occur. But he predicted that aviation negotiators, accustomed to pragmatism, will eventually work out ways for UK and EU airlines to continue to offer cross-channel air services after the official Brexit date in March 2019. "As some
have said, it's not like the telephones will go dead or the Channel Tunnel will be bricked up on Brexit Day, we'll still have air service," he remarked. Professor Havel used the EU's own published documentation to chart a path to a soft Brexit for aviation, but he also argued that Brexit presents an opportunity for the UK to transform global air transport by unilaterally abolishing the rule that virtually all States enforce against foreign ownership and control of their domestic airlines (the so-called "nationality rule") and challenging other aviation powers to do likewise.
As noted above, the McGill/ABA collaboration in Montreal takes place every three years and will return in 2020. We hope that the beautiful weather that the delegates enjoyed this September will reappear on that occasion.
---
Brian F. Havel takes the helm
We are pleased to announce that Professor Brian F. Havel has joined the Faculty and officially taken over as the 13th Director of the IASL as of August 1st.
Professor Havel takes the helm at the Institute after it recently celebrated 65 years in existence. "The IASL is remarkably enduring for an academic institute, a testament to the outstanding teaching and scholarship for which it is recognized worldwide," said Professor Havel. "The next five years will be key years of shaping the Institute for its 70th anniversary, coinciding with the bicentennial of McGill University itself. We hope to make our 70th birthday year the Institute's most successful ever," he added.
Key priorities include strengthening relationships with the many aviation and space institutions that make their home in Montreal, including the International Civil Aviation Organization, as well as creating new opportunities to support teaching and research through partnerships in Canada and throughout the world. Keep reading...
---
Publications of the Centre for Research in Air and Space Law available through WS Hein
 The Centre for Research in Air and Space Law is proud to announce our new partnership with WS Hein to streamline the publication, marketing and distribution of the Centre's publications.
In the coming period, all of the Centre's past, present and future publications, including the Centre's flagship publication, the Annals of Air and Space Law, will be available for purchase or for reading at the click of a button on HeinOnline's website.

Keep reading...
---
Celebrating 60 years at the IASL
The Institute of Air and Space Law looks back on a rich history of over 60 years of education, public service and scholarship. Over 900 of its loyal graduates today serve in some of the highest legal positions; at the bar, in the industry; and for governmental and international agencies in some 120 nations around the world. Come and join us at the IASL!