classified as:
Office for Science and Society
sci_society_office mcgill.ca/oss
External
Faculty
Staff
Students
"The mind can make a heaven of hell and a hell of heaven." (John Milton)MIND MATTERS: THE BODY-MIND CONNECTION is the theme of the the 2017 Trottier Public Science Symposium. The symposium will focus on the roles of both the body and mind when it comes to health. 
...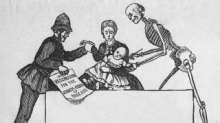 Since its earliest days, vaccination has been attended by hesitation, resistance and controversy. Why did an innovation that promised to rid the world of the terrible scourge of smallpox inspire such enduring fear? When Jenner spearheaded the promotion of vaccination at the turn of the nineteenth century, he predicted the end of a disease that had taken 60 million lives in the eighteenth century alone....