The CWF Wild Migration map at Westmount Family Day: May 27
10:00-16:00
Join us for Westmount Family Day on Saturday, May 27th to explore our giant floor map. We'll be learning about different species at risk and migrations through fun activities. Free, no registration required. See you there!

Where? Westmount United Park Church, 4695 Boulevard de Maisonneuve W., Westmount.

---
May 1- 30 June
Redpath Museum is once again part of the Vues d'Afrique festival.
Please follow this link for the full program
---
June 11, 13h - 17h
CanadaC3 boat in Montreal!
The Redpath Museum is a Museum Hub for the CanadaC3 expedition and the boat will stop at Montreal harbour in early June. Join us for an afternoon of activities and presentations by members of the crew. Details to follow. No reservation necessary. INFO: 514-398-4094.
---
May 28, 10h-16h: Montreal Museums Day @ Redpath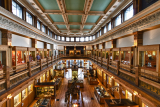 Outdoor activity:
Make your own fossil replica
In the Museum (11h, 12h & 13h, in Dawson Gallerie Dawson Gallery):
 Dinosaurs of Canada with La Société de Paléontologie du Québec.
The event will have an exhibit highlighting a few campaigns organized by the Secretariat of the Convention on Biological Diversity in Montreal, including the United Nations Decade on Biodiversity (2011-2020), the International Day for Biodiversity, the Cartagena Protocol on Biosafety (a Protocol aiming to ensure the safe handling, transport and use of living modified organisms resulting from modern biotechnology that may have negative effects on biological diversity) and the Nagoya Protocol on Access and Benefit-sharing (a Protocol aiming at sharing the benefits arising from the utilization of genetic resources in a fair and equitable way).  Here is the FB link for accessing all the information about Montreal Museums Day.
---
July 8, 13h-17h: Aquavan @ Museum
Join us to learn about fish and marine life in a special travelling exhibit from the Vancouver Aquarium. Free, no reservation necessary. Stay tuned here for more details.
---
ARCHIVES
---
Mar. 26, 14h: Science on Stage: Women's Work
A theatrical celebration of W
orking Women in the Arts and Sciences. By Colleen & Peggy Curran  (In English)
Short plays about McGill's Carrie Derick & Maude Abbott, Emily Carr and Beaver Hall painters Anne Savage and Emily Coonan. Featuring actors Mary Burns, Colleen Curran, Sylvia Cymbalista and Jane Hackett.
IMAGES: Google doodle of Carrie Derick and Carrie Derick at University of Toronto circa 1932. Both from Wikipedia.
---
Feb. 12, 11h-16h: Darwin Day @ the Museum
Join us for a celebration of all things Darwinian on the exact birthday of Charles Darwin in 1859.
12h-15h: Demonstration by McGill Flintknappers Club. In World Cultures Gallery, 3rd floor.
13h-16h: Fossil preparation by Museum Paleontology Technician Chantal Montreuil and Holly Ghandhi. In Entrance Hall.
11h-14h: A Darwinian Treasure Hunt. In all the galleries. Animated by the Redpath Museum Society. Bilingual, for all ages.
11h-14h:  Revealing Species - with evolutionary art. Animated by Lea McLean (Visual Arts Centre, Westmount). In Room 200. Participants will be introduced to the artwork of artist/philosopher/biologist Ernst Haeckel. Using Haeckel's art as inspiration, they will work with a scratchboard made with colorful oil pastels and ink. Participants will scratch out their invented underwater species on this surface. 
12h-16h: Tree of Life and Evolution games. Bilingual. All ages welcome. In Auditorium.
16h:   Special Darwin lecture: Darwin and the Museum. By Victoria Dickenson (Museum Consultant, formerly Director McCord Museum). In Auditorium.
---
Feb. 26, 13h-15h: Paper Places - a mapmaking workshop
(In English)
The "Paper Places" workshop is an introduction to mapmaking, visual art practices and a conversation about the commons. It is also a means to introduce participants to visual facilitation as a teaching and learning method. Through the mapping workshops, visual artist Shane Watt and educator Alex Megelas have explored the ways in which mapmaking, as an art form, can lead to further discussion with children and adults on their interactions with the commons as well as a means to deconstruct societal narratives. In this workshop we will focus on potential space habitats. During the workshop participants will incorporate Shane's artistic practice of mapmaking as a means of showcasing the ways in which fictional (created) maps can be used to interpret a physical or conceptual locale. They will go through their own process of map creation, and engage with each other regarding the significance of their representations – the places in which they value and how to create a sustainable and liveable future both on earth and in space.
---
Dec. 2, 13h-16h: Rock and Mineral Teacher Workshop
The workshop will explore the Deeper and Deeper: Discovering rocks and mineral teacher resource kit that was developed by Mining Matters. This 3-hour session will focus on hands-on activities for 2.5 hours followed by a 30 minute guided tour of the museum, a great place to bring your class for a field trip. Suitable for Grade 4-6 teachers.This is a free workshop for Montreal area teachers. The workshop content and delivery method is meant for teachers; it suits the way they learn, the way they have to teach and we help them with the implementation and troubleshooting of such activities in class during our session. It is not a University lecture or a Geology crash course, it is an introduction to the discovery of rocks and minerals related to our resource "Deeper and Deeper" and correlated to the Elementary Curriculum.
The Deeper and Deeper: Discovering rocks and minerals kit contains 39 engaging and hands-on lessons along with a variety of rocks and minerals needed to cover the curriculum and foster an interest in the Earth below our feet. Kits can be purchased by those attending the workshop for $60 plus $15 for shipping. This workshop takes place in English, in Room 200 @ Redpath Museum.
TO REGISTER: Please contact //kmcbride [at] miningmatters [dot] ca">Kelly McBride. Her address: Mining Matters | Une mine de renseignements, 904-1200 Eglinton Avenue East, Toronto, ON M3C 1H9, Canada