The Art History and Communication Studies Student Association (AHCSSA) aims to facilitate liaisons between students in the department and faculty, other students, and the broader cultural community as well as to provide for the social and academic well being of students in the department.
We will accomplish these goals by putting together events that would allow students to seek mentorship from established scholars in addition to providing a space for interaction between students. Events would include wine and cheeses, speakers, debates, and roundtables.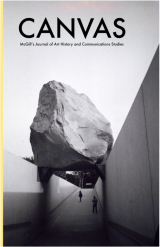 Our journal, Canvas, is another arena for students to share their academic and artistic works as well as a forum for others issues of art historical import. The journal is funded by both AHCSSA and AUS.
Trips would be an additional compliment to the goals of the association by exposing student to the local art world and interact directly with primary sources. Possible trips for this year include a gallery crawls and guided tours, local museums and exhibitions, as well as planning for trips to Ottawa and/or New York.
Finally, the AHCSSA seeks to establish a relationship between the students and the department by having a representative of the association attending departmental meetings and taking part in various academic committees to convey the needs and wishes of the students. An AHCSSA executive will also serve as a liaison to the AUS and represent the interests of the students in the department.
Who we are:
President: Clare Kennedy
VP Events: Anya Kowalchuk
VP Finance: Sarah Macrae-Korobkov
VP External: Ariana Kay
VP Academic: Chloe Ducluzea
VP Communications: Aimée Tian
Canvas Representative: Joy Evenden
Fridge Door Gallery Representative: Danielle Shmuel
Communication Studies Representative: Olivia Lockbaum

Find us on Facebook: https://www.facebook.com/ahcssamcgill
Visit our website: https://ahcssamcgill.wordpress.com
Contact us: ahcssamcgill [at] gmail.com
Canvas Journal: http://canvasmcgill.ca