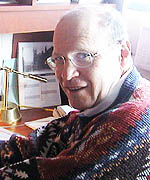 James McGill Professor
Department of Biochemistry
Translational control mechanisms
Rosalind and Morris Goodman Cancer Centre
The Cancer Research Building
1160 Pine Avenue West
Office: Room 615; Lab: Room 608/611
Montreal, Quebec H3A 1A3
Tel: 514-398-7274; Lab: 514-398-7275
Fax: 514-398-1287
nahum.sonenberg [at] mcgill.ca
Nahum Sonenberg Homepage
Secretary: sonenberg.admin [at] mcgill.ca (Annamaria Kiss)
Office: Room 614
Tel: 514-398-5234

1976 - PhD, Weizman Institute of Science

Distinguished investigator of the CIHR, Howard Hughes International Scholar, recipient of the Robert L. Noble Prize of the National Cancer Institute of Canada, and recipient of the Killiam Prize for Health Sciences.
In the news: Sonenberg: the science of translation (McGill Reporter, October 9, 2003 - Vol. 36 No. 03)
Research Interests
identification and characterization of the various translation factors involved in translation initiation
elucidation of the signaling pathways impinging upon translation
discovery of physiological consequences of translational control
The laboratory makes use of the latest techniques in molecular biology and biochemistry, and has access to various resources available through affiliations with Montreal-based hospitals and institutes including the Royal Victoria Hospital, the Montreal General Hospital, the Montreal Children's Hospital, and the Biotechnology Research Institute.