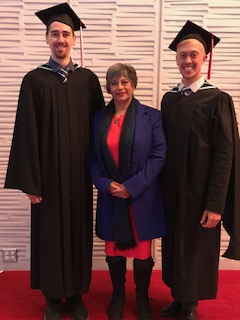 IMPACTS Project research assistants Alastair Hibberd and Christopher Dietzel successfully completed their Master's degrees from the Department of Integrated Studies in Education (DISE).
Alastair's thesis, titled "How university policymakers problematize sexual violence on their campus: A policy discourse analysis" (2017) presented a case study of nine policymakers (three students, three administrators, and three faculty) from a large, Canadian university to assess how they define the problem of sexual violence on campus, what solutions they believe are necessary, and what sources of information they use to interpret the discourse.
Christopher's thesis, titled "Conceptions of education, leadership, and citizenship: Student leadership development for global citizenship" (2017) examined university students' conceptions of education, leadership, and citizenship and offered recommendations for how to integrate global citizenship themes into student leadership development programming and other university-based educational opportunities.
Project Director Dr. Shariff was present with Alastair and Christopher to celebrate the momentous occasion at the Fall 2017 Convocation ceremony in October. Congratulations to Alastair and Christopher!