Desautels professors are behind some of the most unique research projects in the world
Samer Faraj, Professor, Strategy & Organization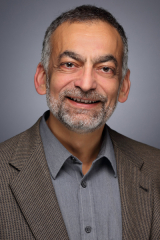 Desautels Professor Samer Faraj and his team have just spent two years observing, shadowing, and interviewing health centre staff throughout the process of four major hospitals' relocations to the new McGill University Health Centre Superhospital at the Glen.
The study examines how work processes are transformed in order to adapt to a new space and modern technologies. The results of this research will shed light on how reorganizing and moving into modern new facilities can help organizations reinvent their work processes, as well as allow individuals to rethink traditional ways of organizing.
Moreover, the study results will help demystify reinvention mechanics in not only health care institutions, but also in large scale organizations the world over.
This research is supported by the Canada Research Chairs (CRC) program and a grant from the Social Sciences and Humanities Research Council (SSHRC).