The MDIIM Health Initiative
The Health Initiative was a framework through which the Marcel Desautels Institute for Integrated Management pursued multidisciplinary research, teaching, and outreach initiatives around healthcare and health issues. It brought together faculty members from different functional areas already active in health matters and encourages all interested faculty to engage in the topic. As such, the Health Initiative provided an interdisciplinary perspective that created a richer understanding of the challenges and developments within the health field.
The collaborations fostered by the Health Initiative aimed at developing new insights in tackling predominant issues in the sector, as well as further building healthcare providers' capacity for managing and improving the systems under their jurisdiction.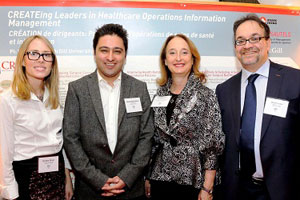 CREATEing Leaders in Healthcare Operations Information ManagementWe connected with the healthcare system in several ways:
The Faculty of Medicine, including the McGill University Health Centre, and other affiliated hospitals, as the primary points of contact with the Quebec healthcare system
CLSCs and the Ministère de la Santé et Services Sociaux (MSSS)
Food companies, social service delivery agencies and NGOs
McGill University's strength lies in its ability to provide value at all layers of the health system through the many theoretical and clinical initiatives within the University. The Health Initiative constituted a means to further McGill's position as a leader and innovator in this domain.