Kartik Ganju
Title:
Assistant Professor, Information Systems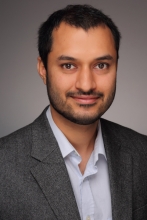 Degree(s):
PhD Business Administration, Fox School of Business, Temple University 
MSc Operations Research, London School of Economics and Political Science
BSc Statistics, Sri Venkateswara College, Delhi University 
Teaching areas:
Analytics; Python, MySQL and R; Healthcare Analytics
Biography:
Professor Ganju joined the Faculty of Management in fall 2016. He received his doctorate in Business Administration from the Fox School of Business at Temple University. He has a Masters degree in Operational Research from the London School of Economics and a Bachelors degree in Statistics from Delhi University. 
Professor Ganju's research examines the impact of IT on healthcare and societal issues. Specifically, his research has examined the impact of IT on billing practices of hospitals, the propensity of physicians to leave hospitals (and even the practice of medicine) once IT systems are adopted in hospitals and the effect that the adoption of these systems by a hospital has on neighbouring hospitals. His research has also examined the effect that IT has beyond effects on GDP and productivity and the effect that the adoption of IT systems have on the well-being of citizens. His research has appeared in top management journals including Management Science, Information Systems Research and MIS Quarterly.
Courses:
Student evaluations (4.3/5 & 4.5/5)
Student evaluations (4.9/5)
Student evaluations (4.8/5)
*- Results to the question "Overall, this instructor is an excellent teacher". Ratings for most recent section taught. 
Area of expertise:
IT in Healthcare 
Labor issues in IT
IT and Societal Change
Business Analytics and IT
Group:
Faculty
Tenured & Tenure Track
Research areas:
Business Analytics & IT
IT in Healthcare
IT & Societal Change
Labour issues in IT
Selected publications:
Kartik K. Ganju, Paul A. Pavlou, and Rajiv Banker (2016), "Does Information and Communication Technology Lead to the Well-Being of Nations? A Country-Level Empirical Investigation," MIS Quarterly 40(2): 417-430.
Hilal Atasoy, Pei-Yu Chen and Kartik K. Ganju (2017), "The Spillover Effects of Health Information Technology Investments on Regional Health Care Costs," Management Science 64(6): :2515-2534
Brad Greenwood, Kartik K. Ganju and Corey Angst "How Does the Implementation of Enterprise Information Systems Affect a Professional's Mobility? An Empirical Study" Information Systems Research (Forthcoming)