6th Pitch and Networking Night in partnership with Esplanade Montréal and the McGill Centre for the Convergence of Health and Economics (MCCHE) will take place on Wednesday, March 21, 2018 from 6:00 pm to 9:00 pm at Esplanade Montréal.
This pitch night is focused on engaging food entrepreneurs previously or currently involved in competing for the Food and Agribusiness Convergent Innovation (CI) Prize in the McGill Dobson Cup.
Established in 2016 under a partnership between the Faculty of Agricultural and Environmental Sciences (FAES) and the McGill Centre for the Convergence of Health and Economics (MCCHE), the Food and Agribusiness Convergent Innovation Prize is offered to support a venture, in the areas of agriculture, food and agribusiness, that clearly intertwines technological innovation, social innovation, and institutional innovation to simultaneously derive measurable economic and social benefit(s). In 2018, Trussbridge joins FAES and MCCHE in awarding the prize.
---
The prize of $5,000 may be awarded to a team participating in the McGill Dobson Cup.
A panel of esteemed judges from Montreal's food and social entrepreneurship ecosystems will be there to provide feedback to the pitchers. Other members of our Foodtrepreneur community will also be invited to pitch to encourage an ongoing sharing of experience and ideas.
---
The event will feature presentations and tastings from the following McGill startups, among others: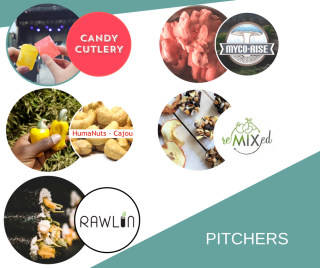 Candy Cutlery - We specialize in eco-friendly edible utensils to celebrate life's sweetest moments.
HumaNuts - Our vision is to be the largest premium cashew processor and trader in Ivory Coast and to provide sustainable and attractive income opportunities to local farmers and their families.
Myco-Rise – We cultivate some of the rarest, most beautiful and delicious mushrooms around! We do this exclusively on post-consumer organic material and we handle all of our own waste by feeding it to our worm composting system.
Rawlin - A vegan grab-&-go food service offering healthy and convenient Japanese rolls to Montreal university students at an affordable price.
reMIXed - reMIXed transforms the concept of traditional trail mixes by introducing dehydrated beans and re-purposed fruit, providing an affordable alternative that combats food waste.
Lufa Farms, LOOP and RISE will be providing refreshments to participants and some of the start-ups will put their products on trial.
---
Judges