Reinventing Innovation, Competition, and Collaboration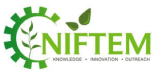 India Centre of Excellence for Food Convergent Innovation
Pulse Innovation Platform-India (PIP-India) Launch: March 8th New Delhi, India
Digital Farming as Anchor to an Integrative Backbone to Support Convergence of Agriculture, Nutrition, Health, and Economic Outcomes.
Pulse Innovation Platform-India (PIP-India) Launch: March 9th Mumbai, India
Challenges & Possibilities of Pulse Based Value Addition & Branding to Support Convergence of Agriculture, Nutrition, and Health Economic Outcomes.
View Press Release: New Pulse Platform Launched to Boost Health and Wealth in India
This 3-hour roundtable, convened to celebrate the launch of the Pulse Innovation Platform in India, assembles researchers, industry professionals, thought leaders, and analysts in an agenda that will:
Develop a National Integrative Digital Backbone for Convergent Innovation in India.
Discuss a broad portfolio of challenges and possibilities in pulse-based food innovation to support positive nutrition, health and economic outcomes.
Agenda
Chair and Moderator - New Delhi, India
Narendra Arora, Executive Director, The INCLEN Trust International
Chair and Moderator - Mumbai, India
Amit Sridharan, Business Head, Consumer Products Business - Pulses, Tata Chemicals
Lee Moats, Chair, Saskatchewan Pulse Growers
Food Convergent Innovation: Pulses
A Series of Articles Published in the Global Pulse Confederation e-Magazine
(download)
---
The Global Pulse Innovation Platform (PIP): the Whats, Whys, and Hows of Convergent Innovation to Reinvent Competition and Collaboration
1) Keynote Presentations
Gordon Bacon, CEO, Pulse Canada
Laurette Dubé, James McGill Chair of Consumer and Lifestyle Psychology and Marketing; Chair and Scientific Director, MCCHE; Desautels Faculty of Management, McGill University
Valérie Orsat, Chair and Associate Professor, Department of Bioresource Engineering, McGill University
2) Commentaries
Ping Zhong, VP, Innovation Global Flavors, Firmenich
Ajay Markanday, Director, FAO Liaison Office for North America
John McDermott, Director, CGIAR Research Program on Agriculture for Nutrition and Health
Narendra Arora, Executive Director, The INCLEN Trust
Klaus Kramer, Executive Director, DSM/Sight and Life
Bruce Lee, Executive Director, Johns Hopkins Global Obesity Prevention Center
3) General Discussion
Can PIP be a Poster Child for Next-Generation Agri-Food Innovation Systems and Act as a Catalyst for a Whole-of-Society Approach to Target the Health of People, Planet, and Economy?
1) Introductory Comments and Moderators
David McInnes, President and CEO, Canadian Agri-Food Policy Institute (CAPI)
Antonia Maioni, Associate Vice-Principal (Research and International Relations), McGill University 
2) Commentaries
Maarten De Groot, Assistant Director, Food Security Policy, Global Affairs Canada
Louis Frenette, CEO, Parmalat Canada
Shelley King, CEO, Natural Products Canada
Audia Barnett, IICA Representative in Canada, Inter-American Institute for Cooperation on   Agriculture
Bob Tyler, Associate Dean (Research and Graduate Studies), College of Agriculture and Bioresources, University of Saskatchewan
Richard Lessard, Former Director of Public Health, City of Montréal
Alain Poirier, Associate Expert, Institut National de Santé Publique du Québec; Former National Director, Public Health, Québec
3) General Discussion
---
Background to PIP
In the present quest for sustainable development and affordable healthcare for all, government, business, and civil society organizations in countries around the world are struggling more than ever to harmonize the economic, social, and environmental dimensions of their activities. To go beyond what has been possible thus far, we need to be able and willing:
AS ORGANIZATIONS, organizations, to reinvent the way we innovate, compete, and collaborate within and across sectors and jurisdictions. This also requires that the health of people, planet, and economy be placed upfront as a single outcome at the target sweet spot of this reinvented model of innovation, competition, and collaboration.
AS INDIVIDUALS, be it our roles of consumers, patients, or citizens, to first build convergence among these oftentimes conflicting roles, and to contribute to the supply and demand for innovation that deliver outcomes at this single sweet spot.
AS A SOCIETY, to engage into the social and institutional innovation needed to invent the political economy that enables the above.
For more than a decade, the MCCHE and its network of national and international partners have articulated what is now known as Convergent Innovation (CI), a solution-oriented integrative approach for single and collective action that reinvents the way we innovate, compete, and collaborate. CI accounts for the 21st Century context of human behavior ambiguity and the fragmented academic and polarized worlds in moving toward solutions at scale. Food has been taken as the most powerful bridge between agriculture, industry, and health sectors that are core to sustainable development and affordable healthcare for all. Within food, pulses is arguably the poster child among agricultural commodities for the development of a CI approach that targets as single outcome the health of people, planet, and economy.
Over the last four years, academic, private, and public sector partners in the Global Pulse Innovation Platform (PIP) have spearheaded a social movement that is just beginning and has led to 2016 being declared the International Year of Pulses (IYP). Global PIP in an open innovation platform that sets the foundation for unique collaborative models that reinvent innovation, competition, and cooperation to increase pulse-based value-addition at the convergence sweet spot. This platform serves as a strategy for food based solutions to the health of planet and people, commercial success for agri-food sector, and containment of ever increasing health care costs tied to diet-related chronic diseases.