The Montreal session is now open for registration
Montreal –  June 18-19, 2018 (Monday and Tuesday) 
The cost of the above training sessions is $1200.00 CDN (2 day session)
For any inquiries please contact Alex Boussetta
---
Objective
Quality has become a must for all industries and services. The challenge today is not only to implement quality programs. It is also to reach a high performance and ensure customer loyalty through products and services delivered on time at the right quality level, at the right price.
At the end of the training, the participants will have a practical knowledge of the quality management best practices applicable to products and services
Quality management system and audits
New product and services introduction  - quality planning
Product and services change management
Process change management
Supplied components and outsourcing quality planning
Quality management metrics for each of the topics covered
*Cancellation Policy: McGill University reserves the right to cancel any course for lack of sufficient attendees, in which case registration fees will be fully refunded. If applicants cancel less than two weeks prior to the start of the class, they will be charged $100.00. Applicants also have the right to send a replacement, if they are unable to attend the session.
---
Teaching method
Theory will be given regularly throughout the seminar
Case studies and exercises will be used regularly.
A case study will be used to integrate all the concepts learned and a final presentation will be done by each team
A Quality Management training attestation will be given​
---
Course Agenda
Day 1
1. Introduction 
a. Structure of the 2 days:
b. Presentation of the case study
c. Overview of Quality Management's foundations
2. Quality management functions
a. Quality planning and process management
b. Quality control and assurance
c. Quality improvement
d. Overall metrics related to these functions
3. The quality system
a. Trends in the overall industry, automotive, aerospace, services
b. Introduction to IATF/TS 16949, ISO 9000, ISO 14000 standards
c. Structure of a quality system: local and global
d. Role of an audit
e. Corrective actions and improvement
4. Quality assurance and control fundamentals
a. Quality control strategies: control plans, First Article Inspection, process capability
b. Sampling strategies: AQL (MIL-STD-105), statistical sampling and other sampling methods
5. Configuration change management
a. Impacts of a change - examples
b. Product or service specification
c. Product or service configuration
d. Process related change – to manage or not to manage
e. Change related metrics
Day 2
6. Supply Chain and outsourcing quality planning
a. Supplier selection and qualification
b. Supply chain risk management overview
c. Quality related terms and conditions
d. Quality control techniques applied to suppliers
e. Delivery and on time delivery quality
f. Change management
g. Corrective actions
7. New product and services introduction
h. Quality planning : risk assessment , FMEA, Metrics
i. Examples: PPAP and APQP
j. Controlling a pilot or ramp up
k. Early quality risks evaluation: run at rate, product or process pressure testing
l. Suppliers involvement
8. Case study presentations
a. Completion of the presentations
b. Final presentation by each team
---
Instructor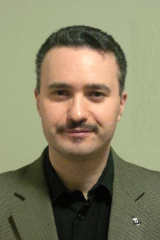 Alex Boussetta, P. Eng. M. Eng., PMP, Agile SMC., EP
Certified Six Sigma Master Black Belt
Executive Consultant, Operational Excellence, Abacus Team Inc.
Affiliate Member, McGill University
Alex Boussetta has over 20 years of quality and operational experience. He managed global matrix structures and departments that had over 300 employees. He participated in many company transformations, turn around initiatives, and led continuous improvement and operational excellence deployments. He is the founder of Abacus Team Inc. His most recent mandates include consulting and teaching in healthcare, manufacturing and driving quality in start-ups.
Prior to consulting, Alex Boussetta was Manager of the Six Sigma Competency Center at Bombardier Aerospace, Corporate Director of Lean at MAAX, Director of Operations at Triton Electronik, and most recently Director, Global Supply Chain and Devices Quality at Blackberry.

Alex Boussetta has been teaching Quality Management courses at McGill University since 2003. These courses include Lean, Six Sigma, Design for Six Sigma, Strategy deployment (Oshin Kanri), quality systems and quality planning, as well as supplier quality management. Through Bombardier, MAAX, Canadian Marconi, BlackBerry, he trained, coached and certified over 400 Green Belts and lean experts, as well as 90 Black Belts and 20 Master Black Belts.  

He holds a VIP award for his project management work at General Electric, as well as a five star award from BlackBerry for product reliability breakthroughs.
Alex Boussetta has a Masters in Engineering Project Management, is a Certified Six Sigma Master Black Belt from Bombardier, and is as well a Lean Sensei (Master Coach and trainer). He is also a Project Management Professional (PMP) and a Certified SCRUM Master (SMC).