Academics
Format of the Professional MBA
During the 32 months of the program, students will typically attend six hours of evening classes each week. In addition, one full week session is scheduled early in the summer semesters of year one and year two, while the months of July and August are free of classes. Each semester students will be required to meet on one or two scheduled Friday afternoons to participate in professional development workshops and reflections.
International Trip
During the second year, as part of the curriculum, all students will participate in a one week international study trip to one of the world's leading cities. This trip allows students to experience international business practices first-hand, and provides them with a truly worldly perspective on the issues learned in class.
Developing Key Skills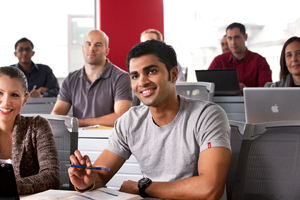 Developing key skillsA number of essential workshops cover career development and presentation skills to help take your career to the next level. These are focused on professional development and career advancement, in order to add value both in the short-term and long-term.
Final Paper
During the last semester, under the supervision of a faculty member, students will work independently to write a final major paper. This individual project provides students with the opportunity to apply their knowledge and key learnings from course work to an actual business issue and can be integrated with their existing position and applied to their own organization.
Innovative Research
The Desautels Faculty of Management is recognized as a world leader in management research. Our professors take pride in bringing the latest research findings into the classroom, enriching the curriculum with the most contemporary business trends.
Industry Expertise
Industry Expert Panels, a world-wide network of highly successful executives brought together by Desautels, infuse the curriculum with live cases and provide internship opportunities. Our CEO Speaker Series brings in industry leaders to meet with students. In addition, Desautels' Executives in Residence (CEOs and former CEOs of Fortune 500 companies) share their vast industry and leadership experience, while providing one-on-one mentorship to students.
State-of-the-Art Facilities
Housed in the new Donald E. Armstrong Building, our MBA facilities are designed to enhance the learning experience of students. Our facilities incorporate the latest technologies as well as study and meeting spaces that create a professional atmosphere where students can interact with each other, professors and business executives.