Tommaso Ferretti
Title:
PhD Student, Strategy & Organization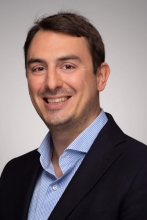 Degree(s):
LUISS University Rome, Italy 2012 – 2014


Masters of International Public Affairs

Università di Pisa, Italy 2009 – 2011


Masters of International Law, Summa cum Laude Graduate

Università di Pisa, Italy 2005 – 2008




Bachelor of Law, Summa Graduate
Research areas:
Clusters & Networks
Corporate Social Responsibility
Global Governance
International Business
Impact Investing
Management in Developing Countries
Social Enterprise
Social Innovation
Sustainable Development
Sustainable Value Chains
Technology & Innovation
Selected publications:
Amurgo Pacheco A, et. al. "SME Competitiveness Outlook 2016: Meeting the Standard for Trade" International Trade Centre (UNCTAD - WTO). Geneva, Switzerland - 2016
Beggiato F, et al. "SMEs Competitiveness in Ghana. Alliances for Action" International Trade Centre (UNCTAD - WTO). Geneva, Switzerland - 2016
Ferretti T, Skae O, and Manson H. "Zimbabwe Engineering, Iron and Steel Sector Strategy 2015 - 2020" International Trade Centre (UNCTAD - WTO). Geneva, Switzerland - 2015
Awards, honours, and fellowships:
September 2018: Marcel A. Desautels Doctoral Fellowship 2018-2019
September 2017: Marcel A. Desautels Doctoral Fellowship 2017-2018
October 2012: Robert F. Kennedy Centre for Human Rights Europe Scholarship: "US Election 2012"
August 2011: Italian Ministry of Foreign Affairs Trainee Program "MAE CRUI"
April 2011: Summa cum Laude Graduate, Università di Pisa
August 2010: Socrates Scholarship - Erasmus Program for European Higher
November 2008: Summa Graduate, Università di Pisa
Conferences:
June 2018 - Cartagena, Colombia. Presenting my paper "An affordance lens to social upgrading. A new angle for technology based sustainability strategies in global value chains" at the academic conference CERALE 2018 - Innovation, entrepreneurship and sustainable development. Rethinking the Europe - Americas relationship in a disruptive world.
October 2016 - George Town, Cayman Islands. Speaker and panelist at the "Caribbean Week of Agriculture 2016"
June 2016 - FAO, Rome. Executive Seminar: "Promoting inclusive and gender-sensitive producer organisations and agricultural investments in cocoa and coffee value-chains"
April 2016 - Università Roma Tre, Rome. Executive Workshop "Italy in Global Value Chains. Country, regions and firm analysis".
February 2016 - Nairobi, Kenya. Speaker and panelistat the 5th Fairtrade Africa Convention.
October 2014 – European University Institute - Academy of Global Governance, Florence. Training: "Global Value Chains: Policy Implications and Opportunities"
Current research:
My main research interests originate from my previous work experience in sustainable development with the International Trade Centre (joint agency of the United Nations and the World Trade Organization) and the efforts of Management scholars to integrate social issues into Organizational and Strategic literature. The phenomena on which I am actually focusing my attention are:
Sustainability strategies for private sector organizations, with an emphasis on:

impact investing and alternative business & governance models incentivizingprivate sector contribution to the public good;
issues of coordination in public-private partnerships for commercially driven alliances;
innovative frameworks for participatory and multi-stakeholder collaboration.

Innovative theoretical and practical frameworks for investigating and guiding the sustainable introduction and use of technology in developmental settings.
Alternative organizational arrangements fostering the integration of social instances in the firm.