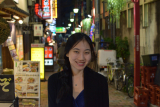 Kelsey S. Inouye JD, MSc, MEd
Doctoral student, Education, University of Oxford
Kelsey S. Inouye is an DPhil student at University of Oxford Department of Education. She holds a JD and an MEd from the University of Hawaii, as well as an MSc in Higher Education from the University of Oxford. Her research focuses on writing development and scholarly identity of doctoral students.   

Address: 15 Norham Gardens Oxford OX2 6PY England
Email: kelsey.inouye [at] education.ox.ac.uk