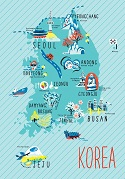 The Department of East Asian Studies is committed to offering a rigorous, innovative and interdisciplinary environment in which students learn a variety of critical and historical approaches to the study of East Asian arts, cultures, histories, languages, literatures, media and social practices.
The research expertise of our faculty members spans a wide range of disciplinary backgrounds from anthropology, archeology, art history, ethnic studies, film and media studies, gender and women's studies, history and literature, to religion both institutional and popular. The unique curriculum of East Asian Studies allows students to gain an intellectually rich, historically informed, theoretically sophisticated and materially grounded understanding of China, Japan and Korea as spaces of dynamic formation and transformation, all the while developing proficiency in languages of the region.
Undergraduate and graduate students may choose from a wide range of courses offered both by the department and by other departments in the Faculty of Arts and in other faculties that encourage the development of strong intellectual connections with multiple disciplines. The Department offers Majors, Honours, and Joint Honours programs and Minor programs in East Asian Language and Literature, East Asian Cultural Studies, a Supplementary non-expandable Minor focusing on advanced language, and is developing an Asian Media Studies focus, as the Department has a vibrant group of film and media specialists.
---