---
Alumni Gift Funds Unique Research Facility
The Faculty has officially inaugurated its new Benedek Integrated Laboratories in Environmental Engineering. The facilities are a gift from alumni Andrew Benedek and Diana Mourato-Benedek.
Former Dean Christophe Pierre says the state-of-the-art facilities will become "the place" at McGill to tackle many of the environmental engineering challenges facing current and future generations. The integrated teaching spaces and research laboratories will also provide a unique working environment for McGill undergraduate students, allowing them to learn side by side with professors and graduate students as part of integrated research teams.

For the full story see: Benedek Integrated Laboratories in Environmental Engineering Inaugurated [.pdf]
McConnell Challenge Fund Doubles Donor Support for McGill Students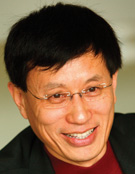 A matching gift program established by the J.W. McConnell Family Foundation is helping Faculty of Engineering donors double the size and impact of their gifts.
The $17-million "McConnell Challenge" is open to donors across McGill. Awards are being made on a first-come, first-serve basis, however, and the funding is fast running out, so engineering, architecture and urban planning donors are encouraged to move quickly if they want to take advantage of the offer. Matches are available for undergraduate scholarships, graduate fellowships, endowed chairs and the multiple support programs administered by the McGill Engineering Student Centre (MESC). The latter option includes academic support for undergraduates and professional development and career counselling to help students find satisfying employment after graduation.
Donors who use the program retain their name on gifts; the J.W. McConnell Family Foundation acts as a silent partner. Mining and Materials Engineering alumnus Yanping Lin, PhD'92, Arts graduate Elizabeth Adjeleian, BA'54, and Sylva Jurney were some of the first donors to our Faculty to avail themselves of the McConnell matching gift program.
For more information, please read: McConnell Challenge Fund [.pdf]
Recruiting Top-Calibre Doctoral Students
A member of Intel's founding management team, Les Vadasz, BEng'61, DSc'07, and his wife, Judy Vadasz, have pledged more than $8 million to help McGill's Faculty of Engineering recruit outstanding doctoral students.
The Vadasz endowment will have a profound impact on the Faculty's long-term ability to deliver graduate education of the highest quality and attract and retain the very best emerging researchers and innovators in Canada. See News Release.
Graduate students are central to a university's research mission, says Dean of Engineering Christophe Pierre. Professors direct and coordinate the work among their student and post-doctoral fellow research teams, but graduate students are the ones who actually write the computer codes, run the simulations, perform the experiments and build the prototypes. Making sure that the brightest and the best enroll at McGill is not always easy, however. "Top-calibre graduate school applicants will apply to half a dozen or more of the leading universities around the world," so Pierre says "McGill needs to offer incentives to get the most talented students to choose us. "The extraordinary generosity of alumnus Les Vadasz and the Vadasz Family Foundation will play a critically important role in enabling us to do that."
McGill Engineering has always had remarkable graduate student talent, but until recently the Faculty lacked a formal recruitment plan with guaranteed funding to encourage the best doctoral students to enroll. Gifts like that from the Vadasz Family Foundation now allow the Faculty to guarantee three years of funding for the top applicants.
Sharing Knowledge and Passion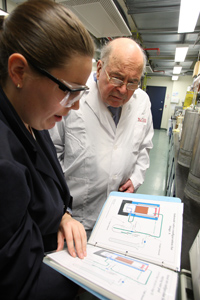 In a career spanning 50 years, Gerald Hatch, BEng'44, DSc'90, has managed complex projects from research and development through to design and production. Hatch has always appreciated the importance of sharing his knowledge and passion. In March 2008, Hatch once again opted to share his resources as well, donating $3-million to the Faculty of Engineering. Half will provide an endowment for three Hatch Faculty Fellows in Engineering – three-year renewable research awards for professors in process materials engineering – while the other half will create the Hatch Graduate Fellowships in Engineering, awarded annually to outstanding doctoral students. Hatch has a long history of generosity to the University, both as an individual and through his company, his latest gifts bringing the total to nearly $5-million.
In recognition of his support, passion and contributions to the field of engineering, McGill awarded him an honorary Doctor of Science degree in 1990. Hatch's late wife, Sheila Baillie Hatch, BArch'46, was a passionate McGill supporter as well, and was among the first women graduates from our School of Architecture. A scholarship exists there in her name.
Read the complete article by Patrick McDonagh, in the Dean's Report, Summer 2008
Fueling Aerospace to New Heights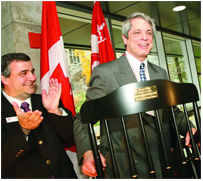 Aerospace engineering at McGill will soon be flying higher than ever, thanks to Lorne Trottier, BEng'70, MEng'73, DSc'06 who donated $12-million to McGill to establish the Lorne Trottier Chair in Aerospace Engineering in the Faculty of Engineering and the Lorne Trottier Chair in Astrophysics and Cosmology in the Faculty of Science. His gift will also fund generous endowments for graduate student support in both faculties.
Lorne Trottier has matched his technical expertise with a willingness to invest his time and energy in caring for the community and his connections to his alma mater run deep. He was awarded an honorary doctorate by McGill in the Spring of 2006 in recognition of his ongoing support of engineering education and for his contributions to industry. He has also served on McGill's Board of Governors, on its Finance Committee and on the Faculty of Engineering Advisory Board. The Lorne M. Trottier Building on McGill's upper campus, funded through his $10-million investment of seven years ago, is a further example of the impact the entrepreneur has made on the University.
Read the complete article in the Dean's Report, Summer 2007
Connecting Campus to Career
Ian Soutar, BEng'58, believes in building McGill's links to the outside world. Governor emeritus of McGill's Board of Governors and currently chairing the Investment Committee of the McGill endowment fund, Soutar was a founding member of the MSBi investment group (now iNovia Capital), which helped move inventions, innovations and intellectual property from university labs into the marketplace.
To help bring students and industry closer together, the Soutars have pledged $2-million to create the Ian and Helgi Soutar Funds for Career Enhancement and Professional Development, to be equally divided between the Desautels Faculty of Management and the Faculty of Engineering. The gift will support initiatives that provide more comprehensive career counselling, and it will build ties with business and industry, through internships, field projects and mentoring.
by Patrick McDonagh
Petro-Canada Supports Students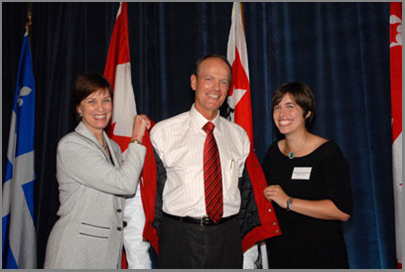 Emerging Leaders Awards Program
When Petro-Canada president and CEO Ron Brenneman joined Former McGill Principal Heather Munroe-Blum to announce a $1-million gift from the national oil company, he told guests: "Many of our best employees today are McGill graduates and we'd like that pattern to continue." To help realize that vision, Petro-Canada is supporting undergraduate scholarships in the Faculties of Engineering and Science and in the Desautels Faculty of Management. This McGill donation, the first awarded under the company's new Emerging Leaders Awards Program, will assist students primarily in engineering, geology, geophysics, environmental sciences and business. "Investing in students and the future of Canadian talent is a strategy I am delighted to endorse," said Principal Munroe-Blum at the announcement on September 20, 2006, as Mr. Brenneman was presented with a McGill jacket as a thank you.
For more information, please see the  Emerging Leaders Awards Program