WINNERS from INTERNSHIPS
FIRST PRIZE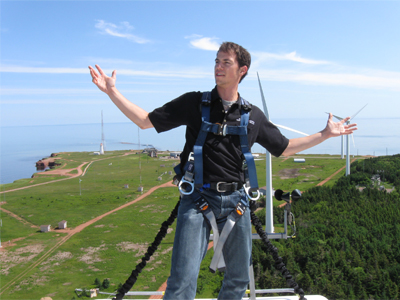 Rémi Dion, Electrical & Computer Engineering at WEICan in North Cape, Prince Edward Island, Canada
"It's in the air: As an employee at WEICan, every student gets the chance to work and live by the Cape, which means that you have windmills on about 90 degrees of your sight and water on the other 270 degrees. As an employee, you also have a trip up on top of V47 (which is a windmill of 50m high). From the top, there's an amazing sight of pretty much as far as you can see. On the photo, we are looking north, toward the small wind turbines, my home, my workplace and the lighthouse."
SECOND PRIZE
Karen Bodie, Honors Mechanical Engineering, at Biomechanics lab, McCaig Institute at the University of Calgary
"FARO arm coordinate measuring machine: All movement and position data collected from tests done in the Biomechanics Lab at the McCaig institute for Bone and Joint Health involved using the FARO arm coordinate measuring machine. A common practice to measure the translation of an object is to secure a precisely machined registration cube to the object, register three faces of the cube and use these to construct a point. The object is then moved (usually putting a tensile force on a ligament that is registered by a load cell) and the same three planes are registered again. After many increments, the displacement between the points can be compared with the change in force from the load cell data to give the stiffness of the ligament.
THIRD PRIZE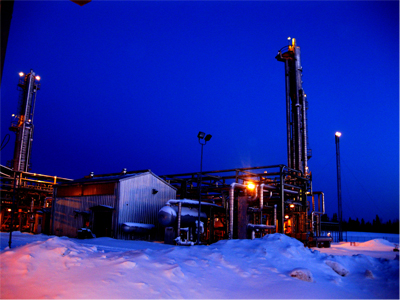 Julia Paykin, Chemical Engineering at Imperial oil, West Pembina Production Complex in Drayton Valley, Alberta
"Sunrise at the plant: I got to work at 6:45 am every morning. This is in March, when it would not be as dark when I came into work. I was an engineering operations support co-op student. The drive to work was 45 minutes away form the small town which I reside in.
---
STUDENT PROJECTS WINNERS
FIRST PRIZE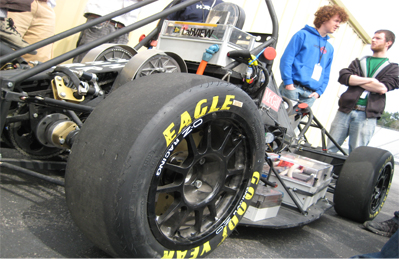 Ramtin Parvizi Electrical & Computer Engineering at the New Hampshire Motor Speedway in New Hampshire, U.S.A.
" I am a member of McGill Hybrid racing team and went with my team to New Hampshire to race our car. This photo is taken from when the car was inspected before the race."
SECOND PRIZE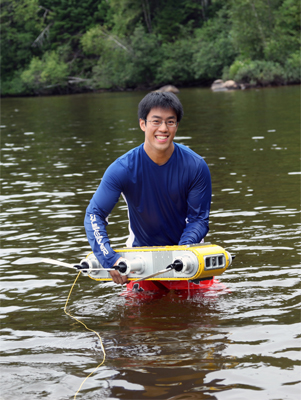 Christopher Wong, Mechanical Engineering; Autonomous amphibious robot AQUA during a field experiment at Lake Ouareau in Notre Dame de la Merci, Canada
" This summer, I worked on McGill Campus in the Centre for Intelligent Machines under Prof. Gregory Dudek's guidance. The project I was involved with centered around developing working amphibious legs for the autonomous amphibious robot AQUA, and verifying their performance and viability. At the end of my project, we took the legs that I had developed for a real-world experiment in Lake North of Montreal. This picture shows me holding up AQUA after running an experiment in the water."
THIRD PRIZE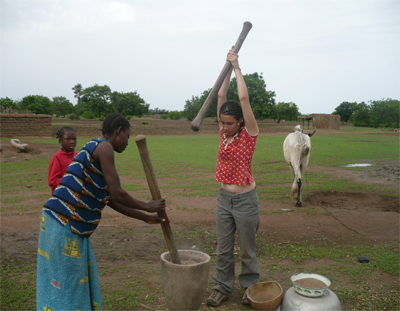 Anais Couasnon, Civil Engineering; in Konankoira Burkina Faso with Engineers Without Borders-Canada
" In order to make flour, women need to pound cereals in a mortar. Pounding cereals to make rough flour takes time! I would see women pounding very frequently in villages as they are responsible for preparing dinner for the family. They would be sometimes up to three women pounding in a mortar
---
WINNERS from EXCHANGES
FIRST PRIZE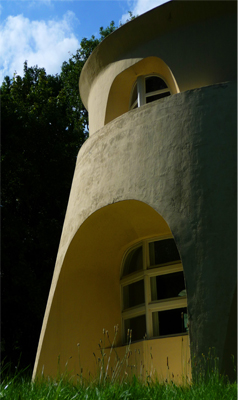 Tobias Froehlich, Mechanical Engineering at Albert Einstein Science Park in Germany Einsteinturm
"During my last week in Berlin, I visited the Einstein Tower with two of my friends, both Architecture students. The tower is one of Erich Mendelsohn's most famous expressionist works, and was built to house a solar telescope which would test Einstein's theory of relativity."
SECOND PRIZE
Sara Abdollahi, Chemical Engineering in Espoo, Finland
"I took part in the program called "The International Association for the Exchange of Students for Technical Experience (IAESTE)" and worked at the Helsinki University of Technology for three months. We were about 20-25 summer trainees from all over the world in Finland.
This picture was taken in a strawberry field in Espoo, Finland, not too far from where the student housing residences were. It was a nice, sunny day and we decided to put the beautiful weather to good use and treat ourselves to strawberries, by working hard to pick them before of course!"
Thank you to everyone who participated in this year's photo contest including the McGill Computer Store and Adobe for donating the First Prizes.