GRAND PRIZE WINNER
Student: Olivier Martel Savoie (Mechanical Engineering)
Photo taken: Chefchaouen, Morocco
IN ACTION CATEGORY WINNER
Student: Matthieu Crepy (Mechanical Engineering)
Photo Taken: Potosi, Bolivia
Description: This shot was taken in Potosi, Bolivia, at the entrance to the mine of El Cerro Rico. I was doing a photo shoot to show the differences between mining in 'industrial' mines and mining at a much smaller scale. When I was leaving the mine I asked my guide and engineer, Oscar, why they did not use mules to take out the ore. The answer shocked me: "Mules are expensive. Men are cheap." He continued with: "This is capitalism, it doesn't matter if they die. It's all about the money." Historians claim that between 2 and 8 million people have died in the mines since 1545. Taken on June 23rd 2015 with a Nikon D3300. Focal length 18mm. F-8.
SELF EXPRESSION CATEGORY WINNER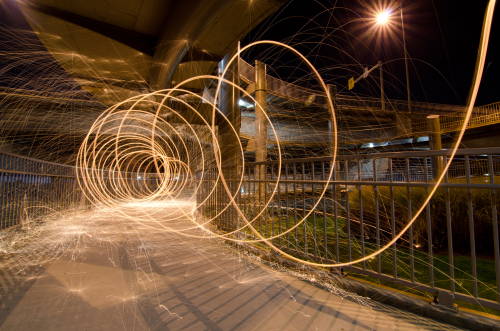 Student: Neil Lui (Mechanical Engineering)
Photo Taken: Langley, BC
Description: An awe-inspiring long exposure of a fiery ball of steel wool
LIFE ABROAD WINNER
Student: Karim Nahed (Civil Engineering)
Photo Taken: Delhi, India
Description: It's all in the details. This picture depicts the wonder experienced by a mother and her child as they walk into a room in the Red fort in Delhi. The intricacies of architecture in India has me, a soon to-be civil engineering graduate, awed beyond words at the time and care put into the execution of designs. Attention to detail is very important indeed, not only in architecture, but in story-telling, arts, maths and even in relationships. This snapshot was taken through a gap in the wall. This information helps authenticate the subject's reaction and really advances the notion that it's all in the details.