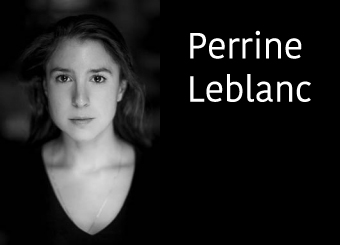 Department of English:
Nyla Matuk is the author of two books of poetry: Sumptuary Laws and Stranger, both with Véhicule Press. She is also a contributor to Carcanet's New Poetries VI anthology and Best Canadian Poetry in English, and a finalist for The Walrus Poetry Prize and the Gerald Lampert Award. Her poems have appeared recently in The New Yorker, PN Review, The Walrus, Poetry, and other magazines in Canada, the U.S., and the U.K. Born in Winnipeg, she has lived in Ottawa, Montreal, Vancouver, London, Ont., and Toronto.
---
Département de langue et littérature françaises:
Perrine Leblanc est née à Montréal. Elle est diplômée en lettres de l'Université Laval et de l'Université de Montréal. Elle a exercé les métiers de correctrice et d'éditrice, notamment chez Leméac et VLB éditeur, avant de faire paraître en 2010 son premier roman, L'homme blanc (Le Quartanier), publié l'année suivante dans la collection Blanche des éditions Gallimard sous le titre Kolia, puis en traduction anglaise en 2013.
Elle a reçu le Grand prix du livre de Montréal et le prix littéraire du Gouverneur général du Canada. Son deuxième roman, Malabourg, finaliste du prix Françoise-Sagan, a paru chez Gallimard au printemps 2014. La traduction anglaise de Malabourg, The Lake, publiée par House of Anansi Press en 2015, a été finaliste du prix du Gouverneur général du Canada dans la catégorie Traductions.