Please take note this is a FRANCOPHONE teaching site : French is mandatory
Description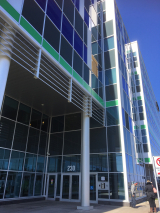 ---
LOCATION
Located in the south-west area of Montérégie.  Only 20 minutes from Montreal, the CSSS Jardins-Roussillon makes it possible to combine the practical aspect of urban living and the charm of wide open spaces.
Websites:
---
LANGUAGE
• Spoken: French, English is an asset
• Charting: French
---
GENERAL DESCRIPTION
The Jardins-Roussillon Family Medicine Unit is located at l'Hôpital Anna-Laberge in Châteauguay.  This hospital is one of Quebec's most recent hospitals and was inaugurated in 1988 to respond to the growing needs of the population.  It is now experiencing a strong increase in its activities, mainly oriented towards acute care and short-stay surgery.  Our Family Medicine Unit is the Centre de santé et de services sociaux Jardins-Roussillon's family medicine teaching clinic.  This Francophone teaching centre approved by McGill University opened its doors in 2009.  The J-R FMU receives approximately six medical residents each year to complete their specialty.  The capacity of the FMU is 12 residents that, to meet the demand, has added a capacity of three externals.  These doctors in training are guided and supervised by more than a dozen experienced family physician teachers.  More than 80% of the curriculum is taught or supervised by physicians.   Residents also have the opportunity to live a hospital experience where the family physician provides care from beginning to end.  The absence of resident specialists allows for greater access to technical facilities and promotes a harmonious relationship with specialists who are able to understand the concerns and prerogatives of family medicine;
• Anna-Laberge is a regional hospital, a breast cancer screening and reference centre, a level II trauma centre
• A family approach to births, known as "Baby-friendly ";
• General practitioners at the heart of treatment and follow up;
• A solid team of specialists;
• A more varied clientele;
• Equipped with one of the most advanced and complete computerized clinical charts in Quebec;
• Only 20 minutes from Montreal.
---
OTHER INTERESTING INFORMATION
Population:
The Jardins-Roussillon FMU is part of the Centre du santé et de services sociaux Jardins-Roussillon which serves a population of over 200,000 people spread over an area of 1200km2, encompassing western Montérégie. This vast territory stretches from the U.S. border (Lacolle) in the far west (Huntingdon) via Laprairie in the east and Kahnawake Indian Reserve near Châteauguay. The population served is very diverse both from a socio-economic and cultural point of view. In addition to the Aboriginal presence, there are very urban centers located near Montreal on the immediate South Shore, but also very rural and agricultural areas further south.
In the teaching Unit
• about 350 admissions/year
• about 9000 outpatient visits/year
• about 150 deliveries/year
In the affiliated hospital
Hospital provides primary healthcare services and offers a full array of diagnostic services.
• about 11500 admissions/year (15600 including babies)
• about 72400 outpatient visits/year
• 226 beds (+21 overflow)
• 1930 deliveries/year
• ER visits: about 42400/year
---
Undergraduate Teaching
Goals of the clerkship:
The objectives of our clerkship are to:
• Promote a model of patient-centred care;
• Develop a method for outpatient care;
• Perceive the patient as a member of a family and community;
• Promote continuous and comprehensive care;
• Encourage health promotion and disease prevention;
• Show the need to pursue one's training by oneself;
• Provide the opportunity to make an informed career choice.
Student's activities:
Structure of the rotation: The days vary depending on the physicians' availability. Students will be exposed to different clinics (walk-in, newborn follow-up and vaccination, monitoring of patients in-office, on-call duty, hospitalization, etc..). They will also be required to make periodic examinations and support.  In addition, they will participate in the "journal club" meetings and weekly teaching sessions.
The one-month clerkship in family medicine is essentially at l'Hôpital Anna-Laberge.  Students may also do some half-days at the Family Medicine Unit.
Equipped with among the most advanced and most comprehensive computerized patient files in Quebec, the CSSS Jardins-Roussillon makes information technology its backbone. Students will be introduced to the real life of a family doctor, as involved with each of their patients as in their community.
The course includes exposure, among others, to palliative care, emergencies, geriatrics, inpatient acute care and other circumstances deemed appropriate by the supervisor. Students in family medicine will find a unique opportunity for interdisciplinary training in an atmosphere of friendliness and respect.
Postgraduate Teaching
---
CAPACITY
• 12 trainees per period
---
CURRICULUM
• Horizontal (residents maintain a family practice three half-days per week throughout the two-year program) 
The Jardins-Roussillon Family Medicine Unit program is horizontalized. Residents of our FMU operate in an environment where family physicians, by their particular interests and expertise, contribute to show the different possible aspects which residents will face in their future practices. Doctors with different backgrounds pertaining to their involvement in the community they serve.
To learn more about the postgraduate curriculum, click here.
---
PARTICULARITY OF THIS TEACHING SITE
The limited number of residents promotes exchanges and the sharing of knowledge through more personalized teaching on the part of practitioners, while enjoying a privileged contact with specialists.
Contact us
Address
Jardins Roussillon à Chateauguay Family Medicine Unit
| | |
| --- | --- |
| Street Address | Mailing Address |
| 230 boul. Brisebois, bureau 302, Châteauguay, Québec | Unité de médecine familiale Jardins-Roussillon, 200 boul. Brisebois, bureau 302, Châteauguay Québec, J6K 4W8 |
Website:  
 CONTACTS:
 
Department Chief
Dr. Dominique Archambault
Undergraduate Education Director
Dr. Ka Ho Tong
Postgraduate Education Director
Dr. Jérôme-Olivier Jutras
Administrative Coordinator of the Residency and Education Program

melanie.carriere.cisssmo16

[at]

ssss.gouv.qc.ca

(Mélanie Carrière)
Telephone: (450) 699-2425 poste 4620
Fax:
(450) 699-2517
For questions regarding the curriculum, please contact:
Interim Undergraduate Program Coordinator

undergrad.fammed

[at]

mcgill.ca

(Sheila Zoghaib)

Postgraduate Program Adminstrator

julie.lane

[at]

mcgill.ca

(Julie Lane)