Austria
Sarayu Rao
Civil Engineering
At the Schonbrunn Palace: Summer palace of the Habsburg rulers."I lived in a German speaking European country for the first time and had to adapt to the culture very quickly in order to build a routine. It was challenging as well as very exciting for me. After successfully completing all my objectives in their lab, I felt extremely accomplished as I finished all my work not only in a very short period of time, but also in a new country with a different culture as well as a different work environment!
"This is a great source of funding for graduate students and I am so thankful that I got it. The mobility award made this exchange possible!"
China
Shanshan Hua
Integrated Studies in Education
A rural school."My research is a narrative inquiry into the experience of being a beginning teacher in rural China. During the 40-day stay in China, I completed a fieldwork of interviewing 5 Chinese rural beginning teachers in the villages of southern China. This fieldwork provided all the first-hand qualitative data that I will use in my research. Since I grew up in rural China, I am always concerned about Chinese rural education. Thanks to the graduate mobility award, I had a wonderful experience of going back to China and living in the rural areas for more than one month. From this mobility experience, I gained a deeper understanding of Chinese rural education and rural teachers, which greatly benefited my research."
France
Emily Curry
Parasitology
Exploring Toulouse on our day off for Toussaint (All Saints' Day)."The primary focus of my research stay at INRA was to become proficient in the maintenance and manipulation of Caenorhabditis elegans. C. elegans are an ideal control model for D. immitis due to the fact that they share a highly conserved genome... During my six-week stay at INRA working with Dr. Lespine's lab, I was able to acquire the skills to independently culture, maintain, and manipulate multiple C. elegans strains. The skills I acquired include: The preparation of classic and ivermectin treated NGM agar petri dishes; the preparation of the various culture medias such as NGM, LB, M9, and S Basal, Liquid Culture Media; the preparation of culture bacteria; the protocol to re-plate C. elegans; the C. elegans freeze protocol; and the larval development assay (LDA) protocol."
Germany
Jonathan Embry
Music Performance
At the Stellwagen Organ."I was able to play the Stellwagen organ which inspired Distler's compositions. I gained insight on how to interpret his music in ways that would not have been possible with having access to the instrument. I also worked in the Distler Archives. I discussed my thesis with the world expert on Distler's music. In relation to my other comprehensive topics, I visited the Beckerath organ factory in Hamburg, and was granted access to their archives.
Nepal
Nicoletta Giulivi
Agricultural Economics
Teej Festival (Women's festival). Religious festivity where women pray for healthy husbands or good men to marry."Thanks to the mobility award I was able to manage and lead the design and implementation of an RCT project from start to end. I gained valuable experience conducting research in developing countries and strengthen my networks in my field of studies...
"Working in partnership with CIMMYT, Radio Nepal, Viamo and Geo Krishi, gave me an insight into the challenges and perks of working in a developing country, as well as a multidisciplinary perspective to approach my work.
"Overall, the experience has been amazing, it was definitely a stepping stone to my future career and an unforgettable experience. The friends I made in Nepal, will always carry a special place in my heart.
"Thank you very much for funding my fieldwork abroad."
Norway
Matthew Henry
Atmospheric and Oceanic Sciences
On our way to the Hardangerjøkulen glacier."I went to Finse in Norway at a research station for a summer school called 'Advanced Climate Dynamics Course' or ACDC! The two weeks were spent doing lectures, a group project, some field work, and getting to know fellow PhD students and faculty. The topic of the summer school was "hemispheric asymmetry in the climate", and the different faculty presented lectures on their specialization relating to this topic. For example, Cecila Bitz talked about differences in sea ice, Jake Gebbie about differences in ocean circulation and so on.
"I had a truly fantastic time interacting with students and faculty at this summer school, I made some long-lasting connections."
Switzerland
Christina Nelson
Physics
The ATLAS Jet/ETmiss group."Traveling to CERN and collaborating with the ATLAS Jet Substructure and Jet Etmiss group was very beneficial for my learning, advancing my career in this field, building new professional relationships, and for my positive and innovative representation of McGill University.
"Overall my experience was wonderful. It was a great amount of work and learning, but everyone in the Jet/Etmiss group and subgroups at CERN made me feel very welcome and at home. It was especially motivating in working together because the attitude of the group really fosters questions, innovation, discussion and collaboration. I look forward to working with them more."
United Kingdom
Mona Ghadirian
Human Nutrition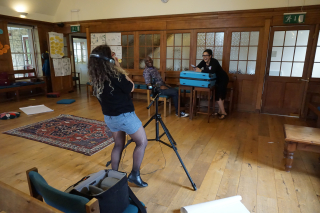 Future facilitators learning about participatory video through practice."The training introduced me to activities and training material that I can use to train my research assistants in the field and activities that will be used with the intervention participants in order to help them produce video nutrition education media.
"TThe hands-on experience this training provided gave me the confidence to conduct my own trainings in rural Ghana in order to raise up local participatory video facilitators. Not only did it help me raise up skilled human resources, but it also exposed me to various case studies of how participatory video was used in both program evaluation and qualitative research around the world."
---
Xiao Ow
Physical and Occupational Therapy
Leeds, UK"While there were no new collaborations with the University of Leeds, I made a lot of connections with other students from all around world who are doing similar research. It was such a great opportunity to connect with so many people. The course itself was honestly one of the best courses I have ever done. Computer adaptive testing is a growing field in healthcare and I think this course provided me with the knowledge skills needed to build a computer adaptive scale using the software. I think there will be opportunities for me to use this knowledge for my work at my own lab... Overall, I have gained a lot from this one week of coursework.
"Thank you for the opportunity!"