More IASL alums news
See our Press room for many more pictures and events that our alums have attended.
---
A Word from the President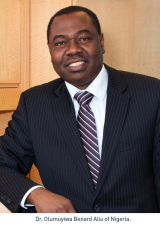 In November 2013, the Council of ICAO elected by acclamation Dr. Olumuyiwa Benard Aliu (Nigeria) as its President. The tenure of Dr. Aliu commenced on 1 January 2014 and will continue until 31 December 2016.
Prior to his election, Dr. Aliu served as the Representative of Nigeria on the Council from 1 January 2005 to 31 December 2013.
A graduate of the McGill Institute of Air & Space Law, Dr. Olumuyiwa Benard Aliu, Gr CT 2009, has shared with Professor Dempsey that "Some people know of McGill only because of the Institute of Air & Space Law."
---
Here comes the judge
IASL Alumni Martin Pelletier (LLM 2010) has recently been appointed by the Canadian Government to the position of Military Judge.
He will be attached to the Office of the Chief Military Judge at the National Defence Headquarters in Ottawa. Prior to his appointment, Commander Pelletier served as the Assistant Director with the Director of Military Prosecutions, and joined the Canadian Military Prosecution Service in 2001.
Congratulations to His Honour Judge Pelletier!
---
We meet again!
In his "unending quest," as he says "to fully and completely document all IASL-related activities worldwide," the irrepressible Peter van Fenema sent in this picture of a Matte Fund related luncheon, which was held in July 2012 in the quiet town of Blaricum, Netherlands. The attendees happily shared stories about Ivan Vlasic, Sheila McBraine, Bradley and other Institute 'characters' of the time.
From left to right: Kees Veenstra, class of 1964, former Deputy Secretary-General, Association of European Airlines, Brussels. Peter van Fenema, class of 1971, former vice – president foreign relations, KLM and adjunct professor of law, IASL. Gerrit de Boer, class of 1968, former judge, Court of Appeals, the Hague; Yola Veenstra, wife of Kees Veenstra.
These three alumni have also in common that, after completing their studies at the Institute, they started  their carreer at KLM's Foreign Relations Bureau, then headed by the formidable Henri Wassenbergh, later professor of air and space law at Leiden University and, until the mid-90s, a regular guest lecturer at McGill's Institute of Air & Space Law.
---
McGill IASL grads organize Seminar on Aviation Safety and Airport Security in Indonesia
Left to right: Professor Paul Dempsey, Adi Cahyo, and Professor Ludwig Weber.
Sponsored by the Canadian Alumni in Indonesia, several IASL graduates were instrumental in putting together a Civil Aviation Seminar on Aviation Safety and Airport Security in Jakarta, Indonesia, on May 27, 2010.
These included McGill graduates Wayhuni Bahar (1990), Adi Cahyo (1984), Prof. Dr. H.K. Martono (1978), and Edward Silooy (1982). Speakers at the Seminar included Prof. Paul Stephen Dempsey (1986) and Prof. Ludwig Weber (1975). The Seminar was held in cooperation with the Indonesian Ministry of Transportation and the Embassy of Canada.
---
Successful International Aviation Conference in Singapore in May 2010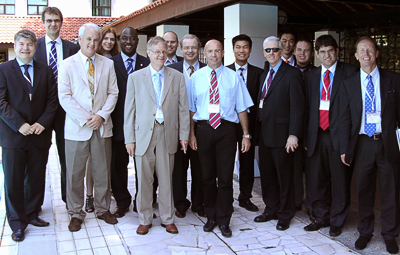 In partnership with the Singapore Aviation Academy and the National University of Singapore, the McGill University Institute of Air & Space Law concluded its International Conference on Air Transport, Air Law and Regulation in Singapore, on 24-26 May 2010.
Some 130 registrants from 38 States and six continents attended the Conference. Eighteen of the speakers had a McGill affiliation. These included, from left to right above, Juan Carlos Salazar (Colombia), Jiri Hornik (Czech Republic), Paul Stephen Dempsey (United States), Rachel Pachoud (France), Yaw Nyampong (Ghana), Paul Fitzgerald (Canada), Eric Lippe (Canada), Ludwig Weber (Germany), Stefan Kaiser (Germany), Chen Kuan-Wei (Taiwan), Kevin Bartlett (Australia), Lee Jae Woon (South Korea), Mark Glynn (United Kingdom), Alejandro Jose Piera Valdes (Paraguay), and Urban Olson (Sweden), standing outside the Singapore Aviation Academy, where the three-day Conference was held. Not pictured were the following McGill Alumni who attended or delivered a paper at the Conference: Wahyuni Bahar (Indonesia), and Mickey Shan (Taiwan).
This event follows a series of annual "offshore" workshops, seminars and conferences offered by the IASL in recent years in such venues as Abu Dhabi, New Delhi, Macau, and Dubai, as well as the major annual fall conferences the IASL sponsors in Montreal.
---
IASL current & former students organize Romanian Air Law Conference
Sorana Pop and Adrian Cioranu were instrumental in the organization of the Bucharest Air Law Conference: New Threats and Challenges in Civil Aviation.
Held in Bucharest, Romania, on May 2-4, 2010, the Conference addressed issues involving both Public and Private International and National Air Law, including the Chicago Convention in the New Century, national legislation, aviation business law, European law, liberalization, security and liability.
In addition to Ms. Pop (currently an LLM candidate) and Mr. Cioranu (LLM'03), IASL speakers included Jiefang Huang (LLM'83, far left) and Paul Stephen Dempsey (DCL'85, fourth from left).
---
12th Biennial Meeting of IASL European Alums — 22–24 April 2010 in Prague
Over 20 European graduates of the IASL gathered in Prague, at a meeting arranged by President-Elect Jiri Hornik, LLM'02, and by Professor Paul Dempsey.
See more pictures
CSA/ABS Jets/Tower Simulator
Canadian Ambassador Residence
or read the Report of the 12th Meeting of European Alums in Prague by Stefanie Fröhling [.pdf]

Download the Invitation to the Prague reunion [.pdf] and the Prague Reunion Programme [.pdf].
---
IASL Graduates and Guests Attend 2010 Graduation Dinner
Fifty graduates and guests attended the annual Institute of Air & Space Law graduation and alumni dinner at the McGill University Faculty Club on April 14, 2010. George Petsikas, General Counsel of Air Transat and President of the National Airline Council of Canada, delivered the keynote address.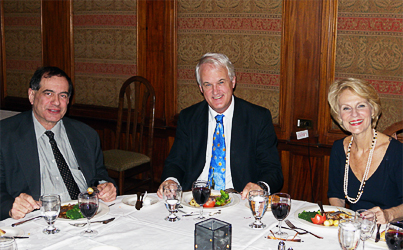 Pictured (L-R) are John Saba, Secretary General of the IASL Alumni Association, Paul Dempsey, Director of the IASL, and Ghislaine Richard, President of the IASL Alumni Association.
---
Current legal issues for satellite Earth observation - 8-9 April, Vienna
DCL candidate Catherine Doldirina participated earlier in April in a conference organised by the European Space Policy Institute. Catherine spoke on "What is 'Privacy'? Perceptions around the world."
At the conference, participants discussed the legal issues associated with earth observation activities and the use of earth observation data. They included topics like utilisation of earth observation data for treaty verification and law enforcement purposes, for the Google Maps application, as well as the use of earth observation data and the protection of privacy. All the presentations of the speakers are available online, and the report of written contributions will be published in the end of May.
---
We'll always have Paris
On September 7, 2009, an extraordinary reunion was held in Paris. It was attended by Jean Ritchie from London, England, John & Ann Keenan from Montreal, Canada and Gerrit de Boer from the Hague, the Netherlands.
They celebrated that it was 40 years since they were awarded their LLM degrees at the McGill Institute of Air and Space Law.
Jean Ritchie was a London-based barrister and head of her chambers, while Gerrit de Boer was Vice-President of the Court of Appeal at the Hague. They are both now retired. John Keenan is still active as an attorney in Montreal.
Over the years, they have been in touch with one another occasionally and this special occasion brought them together once more. Many dear memories were remembered of their time at what they called their Institute during the McGill academic year 1968/1969.
---
Graduation Dinner 2009
Held on April 1, 2009 at the University Club, the dinner was a congenial event where we honoured Dr. Ruwantissa Abeyratne, DCL'96, who worked tirelessly and with much dedication as President of the IASL Alumni(ae) Association from 2003 to 2009, and we welcomed Ms. Ghislaine Richard, LLM'81, as new President of the Association. Bravo to both!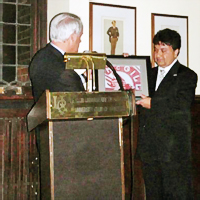 At this year's Annual IASL Graduation Dinner, Prof. Paul Dempsey presents Dr. Tissa Abeyratne with a plaque in appreciation for his loyal and dedicated service as President of the IASL Alumni(ae) Association, 2003 – 2009.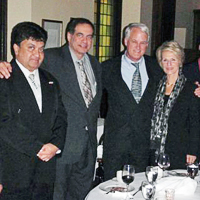 Tissa Abeyratne, John Saba, and Paul Dempsey with Ms. Ghislaine Richard, new President of the IASL Alumni(ae) Association, who was presented at the 2009 Annual Graduation Dinner.
Some of this year's students pose at the IASL Annual Graduation Dinner held on Wednesday, April 1, 2009 at the University Club of Montreal
---
The Institute is proud to have a strong and dedicated Alumni base. The Alumni not only have excelled and distinguished themselves in their respective field of expertise but also made their presence well felt and appreciated by way of extending unconditional help to the Institute and its students.
They have also contributed to the faculty through their research, acumen and well documented LL.M. theses and D.C.L. theses theses , the collection of which is available in the Nahum Gelber Law Library
See Alumni class lists and class photos.
---
Note: We are updating the listings. maria.damico [at] mcgill.ca (Please let us know) if your name is not there in any of the class lists or your thesis has not been included in the theses collection.