Dr Louise Pilote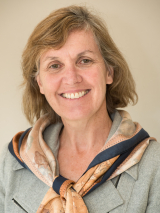 Dr Pilote is recognized as a national and international leader in the generation and translation of new knowledge about sex and gender differences in cardiovascular disease, and as a pioneer in comparative effectiveness research using Canadian administrative databases. Dr Pilote is a principal investigator of the CIHR Vascular network and principal investigator of the CAnadian Network for Advanced Interdisciplinary Methods for comparative effectiveness research (CAN-AIM) team, funded by CIHR to develop novel methods to study drug safety and effectiveness.
Dr Pilote ranked 1stfor CIHR and Fonds de recherche de Quebec – Santé (FRQ-S) investigator awards and received the prestigious FRQ-S Chercheur National award.She was awarded the McGill William Dawson Scholar and James McGill Chair - awards designated to the most senior and respected scholars that have maintained the highest level of scholarly excellence. Dr Pilote was also awarded the prestigious 2014 Fellow of the Canadian Academy of Health Sciences (CAHS) and Canadian Society of Internal Medicine (CSIM) Senior Investigator awards. Recently, she was awarded the Berlin Institute of Health's Excellence Award for Sex and Gender Aspects in Health Research, an award highlighting members of the scientific community who have made an impact in bringing more visibility to sex and gender issues.
The Sex and Gender Research Group is dedicated to drawing attention to the role sex and gender play in the presentation of disease, the diagnosis process, treatment plans and future health outcomes, focusing on cardiovascular disease. The GENESIS network, a team of over 50 investigators across Canada,study gender and sex determinants of cardiovascular disease through over 26 peer-reviewed grants totaling over $5M and producing over 100 publications. These studies range from meta-analyses exploring sex differences in the efficacy of cardio-protective medications in hypertension to a randomized controlled trial to get a closer look at women's adherence to cardiac rehabilitation and identify the best rehabilitation program model. Notably, the project focusing on premature acute coronary syndrome (ACS) has produced 23 publications that have been cited 252x. The team's goal is to document potential differences between men and women in presentation, access to care, and outcomes after premature ACS and to investigate the biological, clinical, psychosocial, and environmental determinants of these differences. Research led to the development of a gender index providing a concrete measure of gender which clarified how sex and gender differed for the public and for the research community as well, and it has been widely featured by CIHR's Gender and Health Institute and the media.
SEX-related projects:
Population level evaluation of ablation therapies in atrial fibrillation (AFIB)
Drug Safety and Effectiveness Network (DSEN)
bioMarkers linking Obstetric events to Major cardiovascular outcomes (MOM)
Building capacity for non-communicable disease care in pregnancy in Haiti (DYAMAN)
Microvascular Angina and Oxygenation Sensitive CMR (OSCMRI)
Gender-related Projects:
GENdER and Sex DetermInantS of Cardiovascular Disease (GENESIS-PRAXY)
Sex and Gender-related Differences in Access to Care for Patients with Premature Acute Coronary Syndromes: Does the Health Care System Matter? (PRAXY-VIRGO)
Blood pRessure and Vascular hEalth around menopause (BRAVE)
Cognitive Impairment Following Pre-eclampsia: Of Mice and Women (CARDIA)
Post-traumatic Stress Disorder and Cardiovascular Disease; Role of Sex and Gender on Impact and Mechanism: A Pilot Study (PTSD)
Visit her Research Institute webpage.
Publications: View on PubMed