Guaranteed Funding
Stipends for all IPN students
As of September 2008, graduate students in the IPN are guaranteed annual stipends, provided that they make adequate progress through the program and meet program milestones. These stipends are intended for student living expenses and tuition and fees. Stipends come from the thesis supervisor, from external fellowships and from awards provided by the IPN. Personal or family financing of graduate careers is NOT permitted.
Minimum annual stipends for IPN students
| Student's resident status | MSc (Yr 1) | MSc (Yr 2) | MSc (Yr 3) | PhD |
| --- | --- | --- | --- | --- |
| Quebec | $18,150 | $18,325 | $17,550 | $20,000 |
| Non-Quebec Canadian | $23,175 | $20,825 | $17,550 | $20,000 |
| International | $29,875 | $26,600 | $17,550 | $20,000 |
The different annual minimum stipends are calculated to account for differences in tuition fees between Quebec, Non-Quebec Canadian, and International M.Sc. students. Our stipends are not subject to Canadian taxes.
 Last updated November 2017.
Differential Fee Waivers for International PhD Students
The IPN covers the tuition fee differential between International and Canadian Ph.D. students. This means that international PhD students pay the same tuition fees as students from Quebec. In order to be eligible, students must fill out this application form on a semi-annual basis (due August 20th or December 12th), register before the deadline, and remain in good academic standing. It will remain at the discretion of IPN to review all information, including all sources of external funding in the eligibility, processing, and renewal of this fee waiver.
N.B. International residency fees apply to graduate students until they complete 8 full-time semesters in a doctoral program (when admitted to Ph.D. 1) or 6 full-time semesters in a doctoral program (when admitted to Ph.D. 2). When "Additional Session" appears on your transcript you are no longer subject to international fees, and therefore no longer require this fee waiver. 
Overview
The Integrated Program in Neuroscience administers recruitment awards to the top subset of new applicants applying to our Masters and PhD programs. This includes students transferring within the IPN from the Masters Program to the PhD Program. IPN will contact applicants should they be selected to receive a recruitment award. Students do not 'apply' directly for these awards, because every application to the IPN is also reviewed for a recruitment award. These awards are subject to the student remaining registered, and showing satisfactory progress leading the completion of their studies. 
The recruitment awards are above and beyond the stipends that supervisors pay. We reserve funds for recruiting outstanding students who demonstrate high academic ability and display a strong desire to pursue graduate research in neuroscience. Early application to IPN is encouraged, as it is at the discretion of the IPN to allocate these funds based on available resources; we terminate the competition when available funds have run out. Therefore, eligibility for the IPN's Recruitment Awards are reviewed on a first come, first served basis. 
Be sure to look through:
Masters Recruitment Awards
The goal of the Masters Recruitment Awards is to attract top-flight undergraduate students to our Masters program. The IPN awards committee will allocate Recruitment Awards based on available funds to newly applying students with a cumulative undergraduate GPAs ≥ 3.70, once they have found a supervisor and committed to graduate work in the IPN. It is not necessary for students to apply directly for these awards because they are considered when they submit a completed application to the IPN. Please note that funds are limited and it is at the discretion of the IPN to terminate recruitment once all available funding has been disbursed.
Awards for Students transferring from the Masters program to the PhD Program
Until further notice, the Transfer Awards are discontinued.
PhD Recruitment Awards
The goal of the PhD Recruitment Awards is to attract top-flight MSc students to enter the IPN PhD program. The criteria for these awards include the students' publication records, undergraduate and graduate grades and letters of recommendation. The Recruitment Awards are signing bonuses and their intent is to attract the best students to our PhD program. Students do not need to apply for these awards, because they are automatically considered when they submit a completed application to the IPN. Please note that funds are limited and it is at the discretion of the IPN to terminate recruitment once all available funding has been disbursed.
Internal Sources
McGill participates in a number of inter-departmental/inter-disciplinary training programs. Below are details of some that are relevant to IPN. These programs can be excellent sources of graduate student funding.
NSERC-CREATE Program in Medical Image Analysis
"The purpose of the NSERC Collaborative Research and Training Experience (CREATE), industrial stream, is designed to help new researchers transition into the workforce. It provides them the opportunities to acquire professional skills and on-the-job experience in industry in tandem with  participating in leading-edge research in areas considered to be of top priority for Canada's future."
"CREATE-MIA will provide up to 50% of the trainee's funding.  The amount will depend on the amount of funding they are getting from other sources.  Current NSERC guidelines for recommended funding levels will be taken into account."
NSERC-CREATE Training Program in Neuroengineering
"The Neuroengineering CREATE team is based at McGill University in Montreal, Canada, and brings together chemists, physicists, biomedical engineers, and neuroscientists to generate innovative techniques to study mechanisms of axon guidance and synaptogenesis. The CREATE team is also developing new techniques for using the output signals from synapses on synthetic matrices to control effector organs."
"The NSERC CREATE Neuroengineering training program seeks trainees at the graduate and post-doctoral levels. Canadian citizens, Permanent Residents of Canada, and International students are all eligible to apply."
CIHR Training Program in Neuroinflammation
"The Neuroinflammation Training Program has 16 Principal Investigators working on various aspects of neuroinflammation (see Research Areas ) whose laboratories are spread across Montreal: The Montreal Neurological Institute, Centre for Research in Neuroscience, The Research Institute of the McGill University Health Center, INRS-Institut Armand Frappier, Douglas Hospital Research Centre, Centre de recherche du CHUM, Centre for the Study of Host Resistance (MUHC), The Alan Edwards Centre for Research on Pain and others."
"Since 2002 we have given out 90 Graduate studentships and Postdoctoral fellowships, and 130 Travel Awards for travel to national and international meetings and conferences."
Apply for CIHR Training Program in Neuroinflammation graduate awards
External Sources
A number of external awards exist that IPN students are eligible to apply for. IPN students have secured funding from many sources including some of the following:
CIHR Harmonized The federal granting agencies (Canadian Institute of Health Research CIHR, Natural Sciences and Engineering Research Council NSERC, and Social Sciences and Humanities Research Council SSHRC) have harmonized the Masters Canada Graduate Scholarship program. 
As of Fall of 2013, all eligible students applying for a Canada Graduate Scholarship Masters (CGS M) will use the Research Portal (hosted by NSERC) and Canadian Common CV via the institution where they are registered or intend to register. Please see the McGill Workshop and Eligibility Criteria.
Deadline: Submission of online application to Research Portal: December 1, 2018 (8:00 p.m. ET)

Decisions will be made by early February and student and supervisors will be notified.

For students not already registered in the IPN, you must make a formal application to our program by 5:00pm January 15, 2019 or your application will be withdrawn from the competition.
For specific inquiries please contact katherine.vanka [at] mcgill.ca
FQRNT Candidates who are not Canadian citizens or permanent residents of Canada, or who are from a Canadian province other than Québec, are eligible if they provide proof, at the time of submitting their scholarship application, that a) they have been domiciled in Québec on a regular and daily basis for six months (with the appropriate visas and authorizations) and b) they have been admitted to or are enrolled in a Québec university, or that they have applied for admission to a Québec university.
Vanier Fellowships  The IPN does an internal pre-selection of Vanier nominees (applicable to both international and Canadian students). M.Sc. applicants who plan on pursuing a Ph.D. and Ph.D. applicants seeking a nomination for the Vanier Fellowship should submit with their application a self-assessment detailing the impact of their activities and accomplishments, and how they judge themselves to be a potential Vanier CGS recipient and a leader in their research and global communities.  
Heart and Stroke Foundation of Canada
Multiple Sclerosis Society of Canada
Fulbright Enrolment Awards are intended for American students who plan to enroll in a graduate program at a Canadian university. The student must seek admission at the same time as they apply for a Fulbright award. The Traditional Fulbright Canada award would support the first nine months of the student's graduate degree.  For eligibility requirements and application details, please visit the Fulbright website. For awards to be taken up in the 2019-2020 academic year, the competition will close on October 9, 2018 at 5:00pm EST.
CONACYT Program for Mexican Students
China Scholarship Council Joint Scholarship Program
The Graduate and Postdoctroral Studies website has links and information about other fellowships that students may wish to consider. See the table below.
Which award is right for me?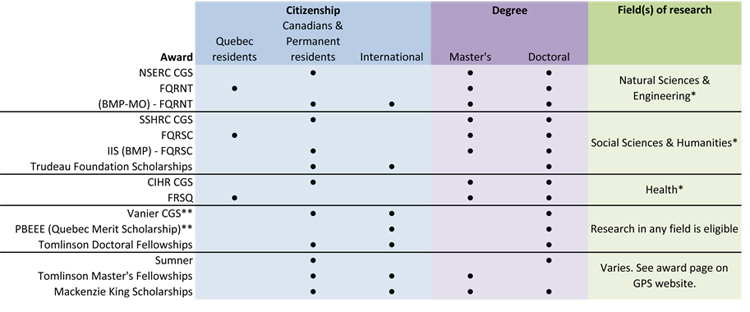 Click to enlarge chart
---
---