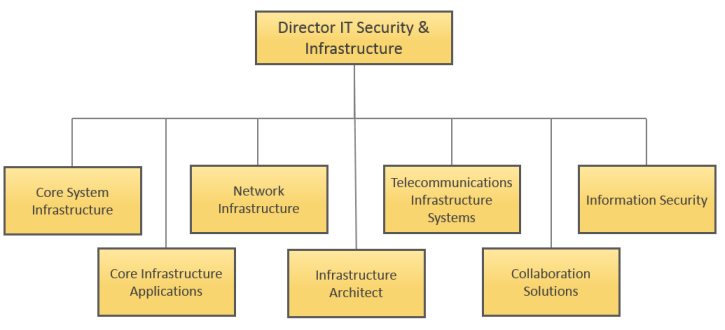 Network and Communication Services (NCS) - Organization Chart
Network and Communication Services (NCS) provides campus-wide access to Local Area Networks, Wireless Network, Internet, email, and manages the infrastructure and IT security for all McGill central systems.  This unit is composed of six teams:
Core System Infrastructure - Responsible for server management (virtual and physical servers), data storage and backup, and central IT Data Centers.
Core Infrastructure Applications - Manages operating systems and infrastructure applications to support network and unified communications (email, instant messaging, cloud storage, DNS, DHCP, etc.)
Network Infrastructure - Manages wireless and wired networks, and related components
IT Physical infrastructures and systems - Installs and supports audiovisual equipment in classrooms and other areas on campus, installs and maintains physical network and physical security components.
Collaboration Solutions - Manages services related to content management and collaboration, such as McGill's Enterprise Content Management System (Documentum, CenterStage, Webtop, D2, Office365 collaboration applications).
Information Security - Protects the McGill network and information systems against cyber-threats and reduces vulnerabilities by setting security policies and implementing security solutions such as (endpoint protection, event monitoring, two-factor authentication, etc.).
Contact us: To view NCS employee names and contact information, consult our Staff Directory. 
Need help with any of our IT services? Contact the IT Service Desk.
Looking for IT answers? Visit our IT Knowledge Base.