News
As of Wednesday, February 27th, we began phasing in the new sign-in procedure to log on to Banner INB. The reason for the change was to add an extra layer of security to the Banner system.
You will continue accessing Banner INB by clicking the blue key icon from the Banner website (mcgill.ca/inb):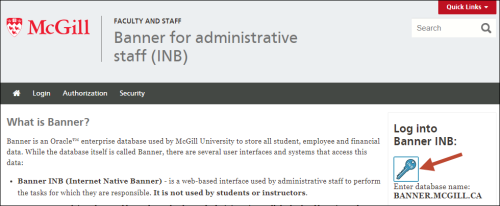 This will bring you to the RD (RemoteApp and Desktop) Web Access page where you will sign in with your McGill username and McGill password. Then you will sign in from the Banner login page using your Banner UserID, as before.
Instructions for new Banner INB sign-in
The new change will only affect the way you log in to the Banner INB system. It has no impact on:
the Banner INB forms and functionalities;
your Banner INB administrative tasks; and
your sign-in credentials for the Banner INB system.
Note:

- During the transition period, all current Banner access will still be available until April 10.  After this date, the current Banner INB access will be redirected to the RD Web Access page.
- The "two-step sign-in" to Banner INB is not a multi factor authentication process.
- Minerva login remains the same.
If you have additional questions, contact IT Service Desk:
• Tel: 514-398-3398
• Email: ITSupport [at] mcgill.ca