News
D2 is a web-based document management solution used at McGill for storing institutional data, such as project documents, briefs, proposals, etc.
We have just added a new Public Search feature, which allows for greater precision when searching for content throughout D2.
How does the search feature work?
1) From the Search tab in D2, click Public Searches > Spaces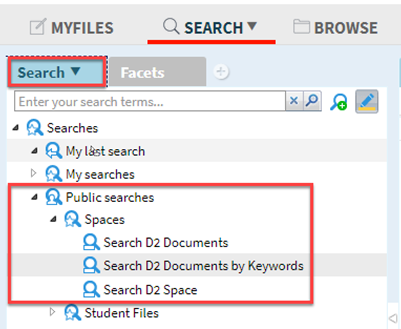 2) There are 3 search options:
Search D2 Documents – finds documents that contain the search term in the file name
Search D2 Documents by Keywords - finds documents containing the search term within the document
Search D2 Space - finds spaces containing the search term in the space name
---
Want to know more about D2?
For more information about D2, how to request access and sign up for training: see the Document Management Solutions IT Knowledge Base article.
To request a D2 space for your unit/team, fill out the online D2 Request Form.