As an official Data Privacy Day champion, McGill is spreading the word, and educating the McGill community on the importance of respecting privacy and safeguarding data.
What is Data Privacy Day?
Data Privacy Day is an international effort which began in the United States and Canada in January 2008 as an extension of the Data Protection Day celebration in Europe. Data Protection Day commemorates the January 28, 1981 signing of Convention 108, the first legally binding international treaty dealing with privacy and data protection. The Data Privacy Day campaign is officially led by the National Cyber Security Alliance (NCSA).
Special Event - Thursday, January 25: Live from LinkedIn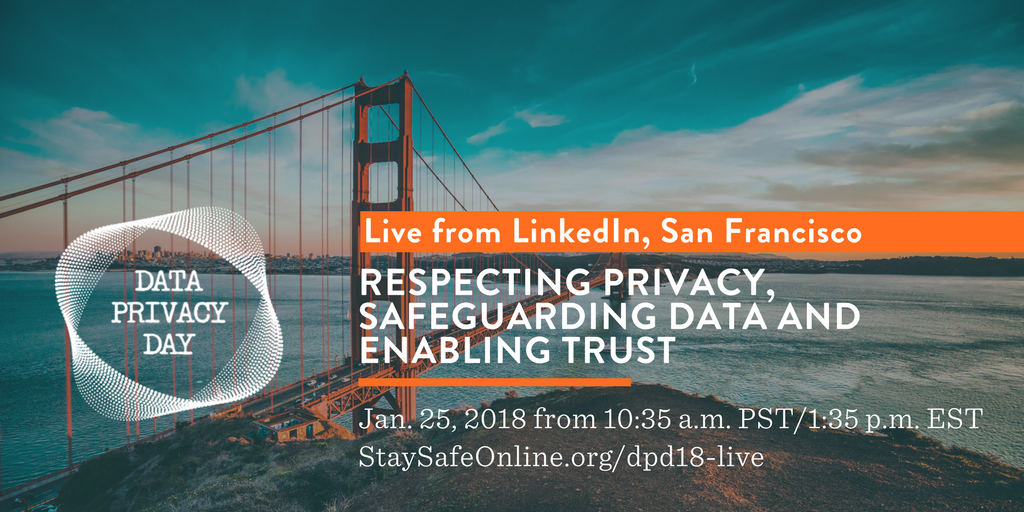 The National Cyber Security Alliance (NCSA) will mark Data Privacy Day 2018 with an event streamed live from LinkedIn in San Francisco, entitled Respecting Privacy, Safeguarding Data and Enabling Trust. This event will feature engaging panels, TED-style talks and interviews focusing on the latest privacy issues for consumers and businesses.
For more information: https://mcgill.ca/it/channels/event/live-linkedin-data-privacy-day-2018-283799
Did You Know?
By 2020, the average home will have up to 50 devices connected to the Internet of Things. 82% of cyberstalkers use social media to find out information about potential victims. In 2016, 2.2 billion data records were compromised and vulnerabilities were uncovered in Internet of Things products from leading brands.
Privacy Tips:
The more information you make public about yourself (and your friends and family), the greater your exposure to online threats such as identity theft, cyber-stalking and cyber-bullying. Here are some simple tips on how to protect your online information, identity and privacy.
PERSONAL INFO IS LIKE MONEY: VALUE IT. PROTECT IT.
Information about you, such as your purchase history or location, has value – just like money. Be thoughtful about who gets that information and how it's collected through apps and websites. You should delete unused apps, keep others current and review app permissions.
SHARE WITH CARE.
Think before posting about yourself and others online. Consider what it reveals, who might see it and how it could be perceived now and in the future. It's a good idea to review your social network friends and all contact lists to ensure everyone is still relevant.
OWN YOUR ONLINE PRESENCE.
Set the privacy and security settings on websites and apps to your comfort level for information sharing. Each device, application or browser you use will have different features to limit how and with whom you share information.
LOCK DOWN YOUR LOGIN.
Your usernames and passwords are not enough to protect key accounts like email, banking and social media. Choose one account and turn on the strongest authentication tools available, such as biometrics, security keys or a unique one-time code sent to your mobile device.
KEEP A CLEAN MACHINE.
Keep all software, operating systems (mobile and PC) and apps up to date to protect data loss from infections and malware.
APPLY THE GOLDEN RULE ONLINE.
Post only about others as you would have them post about you.
SECURE YOUR DEVICES.
Every device should be secured by a password or strong authentication – finger swipe, facial recognition etc. These security measures limit access to authorized users only and protect your information if devices are lost or stolen.
THINK BEFORE YOU APP.
Information about you, such as the games you like to play, your contacts list, where you shop and your location, has tremendous value. Be thoughtful about who gets that information and understand how it's collected through apps.
These tips are excerpted from the Data Privacy Day Champions Backgrounder document, courtesy of StaySafeOnline.org.
Note: StaySafeOnline.org is an American website that references American privacy laws. Keep in mind that privacy laws in Canada are different from those in the US. However, from a user's perspective best practices and the dangers associated with privacy remain the same. For further information regarding Canadian privacy laws, please refer to the Office of the Privacy Commissioner of Canada website.