The structure of McGill's BCL/LLB program develops jurists who are well grounded in the fundamental legal concepts of the two major legal traditions of the western world, the civil law and the common law. Students who successfully complete the undergraduate program obtain a double degree of civil law (B.C.L.) and common law (LL.B.). Students can also enrich their program of study with various options or through one of the joint programs offered by the Faculty of Law, in collaboration with the Desautels Faculty of Management or the McGill School of Social Work.
Law traditions blended in a transsystemic program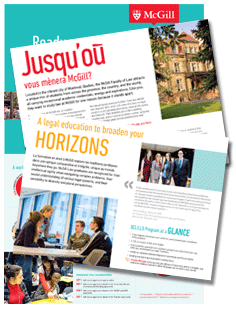 Download our flyer / Téléchargez notre dépliant [PDF]From the very first year, McGill law students are introduced to bijuralism: civil law and common law concepts are explored in an integrated manner, and are encouraged to compare and critically evaluate the two traditions.
This "transsystemic" approach fosters in our law students not only outstanding analytical ability, but also critical reflection and openness to diverse approaches to legal problems and traditions.
The comparative dimension of McGill's curriculum focuses primarily upon the law of obligations (contracts and tort or delict) in which remarkable changes are taking place globally involving complex legal transactions across international borders.
The Faculty emphasizes the mastery of underlying principles in private and public law, with a wealth of courses in legal theory, social analysis, and legal pluralism.
McGill's proud tradition of public law teaching and scholarship is also reflected in the wide range of courses offered in Canadian constitutional and administrative law, as well as in international law, where McGill's offerings are unsurpassed.
Find out more about the transsystemic approach
The Paul-André Crépeau Centre for Private & Comparative Law has an entire section devoted to our Transsystemic Legal Education program, which features a wealth of articles, course outlines, sample exam questions, videos from certain transsystemic classes, and a radio interview with former professor Nicholas Kasirer on what is 'transsystemia'.