Heather Goad, Associate Professor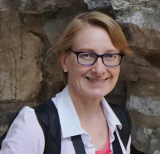 Specializations: Phonology, First Language Acquisition, Second Language Acquisition
PhD: University of Southern California
Contact Information
Email: heather.goad [at] mcgill.ca (Heather Goad)
Office: 1085 Dr. Penfield, room 320
Phone: 514-398-4223
Office Hours: Winter/19 - Tuesdays, 15:00-16:00 and Thursdays, 11:00-12:00
Web: personal page
Major Publications
Schwartz, M. & H. Goad (2016) Indirect positive evidence in the acquisition of a subset grammar. Language Acquisition. DOI: 10.1080/10489223.2016.1187616
Goad, H. (2012) sC clusters are (almost always) coda-initial. The Linguistic Review 29: 335-373.
Goad, H., & L. White (2006) Ultimate attainment in interlanguage grammars: A prosodic approach. Second Language Research 22: 243-268.
Goad, H. & Y. Rose (2004) Input elaboration, head faithfulness and evidence for representation in the acquisition of left-edge clusters in West Germanic. In R. Kager, J. Pater & W. Zonneveld (eds) Constraints in phonological acquisition. Cambridge: Cambridge University Press, pp. 109-157.
Current research grants
Phonological effects on grammatical representation and processing; SSHRC Insight Grant; Heather Goad (PI) & Lydia White; 2015-2020
Neurocognitive perspectives on the acquisition, loss and processing of language; FRQSC Team Grant; Lydia White (PI), Fred Genesee, Heather Goad, Yuriko Oshima-Takane, Phaedra Royle, Karsten Steinhauer, Elin Thordardottir; 2015-2019