aleksandra.djuric [at] mcgill.ca (Aleksandra Djuric) - Technician (514) 398-2610
Equipment
Atomic Absorption Spectroscopy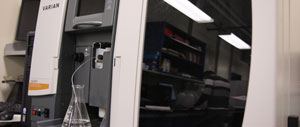 Perkin Elmer Atomic Absorption Spectrometer 311. Highly sensitive instrument (ppm level).
Varian AA 240 FS Atomic Absorption Spectrometer Fully automated PC-controlled double-beam atomic absorption spectrometer with fast sequential operation for multi-element (4) flame AA determination.
UV Spectroscopy
Perkin Elmer Lamda 20 UV/Vis Spectrometer
Ion Chromatography
Dionex DX-00 Ion Chromatography
Laser Scattering Particle Size Distribution Analysis
Horiba Laser Scattering Particle Size Analyzer
Size range from 0.020 to 2000 microns.
Particle Analysis
Micrometric TriStar Surface area and porosity analyzer
BET analysis of up to 3 samples at the time