Winter Brunch 2019
On January 27th, MAUT's Membership Committee organized a winter brunch at the McGill Faculty Club with over 110 guests in attendance, including 33 gleeful children who participated in a wintery themed interactive science show. The Club offered an exceptional selection of soul warming food, including superb desserts to tantalize guests big and small. The event was pleasant and friendly. Thank you to all our members and their families who came out and made this event a success and to the McGill Faculty Club for its exemplary hospitality and unique atmosphere.
Jo-Anne Watier, MAUT Membership Engagement Officer
---
Octoberfest Apple Picking 2018
This year's apple picking event was once again popular and successful. Despite the cool autumn air, there were plenty of warm friendly smiles and high spirits to kick off the event at full capacity. As guests were greeted at the registration desk, each family was given a special MAUT canvas bag for apple picking at the Macdonald campus apple orchard. The Faculty Club staff welcomed guests and their families into the dining area with a barbecue of choice, delectable salads and after-dinner sweets. For photos, please check out our Facebook page.
A big shout-out to the McGill Faculty Club, Tadja Hall, the Mac Campus orchard and the MAUT Membership Committee for their collaborative efforts in making this an event that people of all ages look forward to each year!
Jo-Anne Watier, MAUT Membership Engagement Officer
---
MAUT Welcome Gathering 2017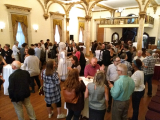 MAUT's Welcome Gathering, held on September 7th, was the first social event of the season with over 125 attendees making the evening a splendid and successful venue.  The ambiance in the Ballroom was filled with the warmth of old and new acquaintances conversing as the Mason String Quartet infused their enchanting music throughout the evening while guests were offered an array of delectable delights and cocktails.  Youngsters assembled in the Heritage Room where they were captivated by and interacted with exotic creatures from around the world.  MAUT's President, Alenoush Saroyan and Membership Committee Chairman, Stefano Algieri, extended their salutations in a brief address where they expressed their contentment and commitment in being part of the MAUT community.  A special thank you to MAUT organisers and the Faculty Club in making the evening most amiable and memorable!
Jo-Anne Watier, MAUT Membership Engagement Officer
---
Winterlude Brunch 2015
Debra Titone
Department of Psychology
On January 18, 2015, MAUT held a "Winterlude Brunch" at the gorgeous McGill Faculty Club, organized by the Membership Committee.  Free to MAUT members, and open to non-members for a nominal cost, McGill academic staff and their families were treated to a vast and delicious array of brunch offerings (the poached eggs over sautéed spinach were a particular stand-out), surrounded by a roaring fire, the company of colleagues, and new and old friends. 
All of this was enjoyed by more than 120 participants, including 33 children. We were especially pleased to see so many young children in attendance, whose delighted reactions to the stories and songs of our two special guests made leaving the comfort of warm homes on a cold Sunday morning more than worth it.
Following the brunch, many attendees visited the Redpath Museum on their own, where Membership Committee members had the opportunity to put some final touches on an upcoming MAUT family event at the Redpath, tentatively scheduled for March (stay tuned for more details).
Photo credits: Debra Titone
---
November 2014
MAUT mixers reveal the true value of an academic staff association
Terry Hébert
Department of Pharmacology and Therapeutics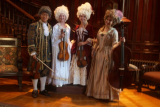 On September 9th and October 5th, 2014, MAUT held two gatherings, where for a little while anyway, both members and non-members could talk about something other than problems with the pension plan and cutbacks in provincial funding for the university. At the first event, held at the Faculty Club downtown, 157 people (academic staff and their families) attended a back to school mixer which was also a welcome to new academic staff and non-members. A string quartet, costumed from the era of Mozart, provided an entertaining background to meetings of old friends and hopefully new members, and a room with special activities both amused the children and gave parents a chance to mingle with their colleagues.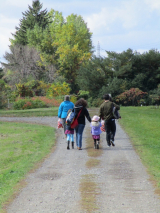 The second event was held at Tadja Hall, the Faculty Club on the MacDonald campus. This event was filled right up to capacity (231 people!) and many had to be turned  away.  The Faculty Club and its manager, Nicolas Zrihen, facilitated the first event, reminding me again of the integral connection between the Club and MAUT. However, this second event, which was held on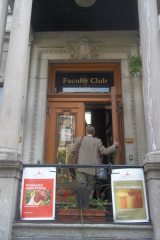 a beautiful fall day, would not have been possible without Nicolas and his team at both sites. Not only did they provide the food free of charge to MAUT, but they took time out of their weekends to cook and serve it, making the day special for members and non-members alike. The endless energy of Honore Kerwin-Borrelli, MAUT's Administrative Officer was another essential ingredient in the success of both events. Our legal advisor, Joseph Varga was also kind enough to take pictures of both events! The fun at Tadja Hall also included apple picking in the McGill orchard, and I can tell you the apples were perfect- crunchy and sweet! Again the most striking thing (at least to me) was how many of our colleagues brought their families to both events, and how obviously the children  enjoyed the activities planned for them. 
The membership committee of MAUT (Stefano Algieri, Ken Hastings, Tara Mawhinney, Greg Mikkleson, Debra Titone and myself), who conceived and organized these social  events, have been thinking for some time about the value of an academic staff association. We concluded that MAUT has a tremendous and often unappreciated value in fighting the good fight- under difficult economic and political conditions, and always with a sense of collegiality. We also know that an academic staff association per se cannot win all these battles and must understandably bear criticism for that. That said, the true value of an academic staff association should be to bring us together, not only over shared concerns, but also over shared interests, and preferably over a glass of wine. I have always said that the best thing about MAUT was that it allowed me to meet and interact with colleagues from many different departments, faculties and units.  I think our two recent events showed that there are many among us who share that view. There was a genuine good vibe at the downtown event that ran from its opening until the last drink was served. Non-members  told us that this was a great idea and that most were happily surprised to have been invited! The apple picking event at Tadja Hall was also wildly successful beyond our initial hopes.
MAUT is the voice of the academic staff at McGill, so its efforts on behalf of its members affect and benefit all regardless of membership. A majority of academic staff are MAUT members but, of course, ideally all should be. MAUT works on behalf of all academics. Thus, we all share responsibility for making the university and our association what we want it to be. This is especially true if there are aspects about our experiences as academic staff at McGill, or about MAUT itself, that we wish to improve. The work of the MAUT membership committe to enhance the impact of MAUT as a promoter of pleasant and rewarding collegial interactions will, we think, make the utility and importance of the association more evident to all, and thus contribute to increasing our membership.
What can we take from the success of these two events? A survey conducted by the membership committee in the wake of these two mixers showed a genuine interest from both members and non-members alike in having more such events. With that in mind, the MAUT membership committee is already planning another event to help soothe your post holiday blues for the middle of January 2015. All we'll say for now is bring your appetites, some warm clothes and of course, your families!