Sustaining Landscapes for the future
Landscapes connect communities to production systems, ecosystem services, and natural capital needed for the provision of food, energy, clean water, and sanitation systems. In an interconnected world, where the socioeconomic and biophysical drivers of landscape change are increasingly linked to regional and global processes, decision-making at the landscape scale necessitates an integrated view that recognizes connectivity at different scales. Enhanced connectivity via infrastructure, transportation, telecommunications, commodities trade, markets, and social networks has clear benefits to society, but how this connectivity affects our relationship with nature and the sources of ecosystem goods and services on which we depend, i.e. 'landscape services', is becoming increasingly opaque.
"A key challenge is that the drivers of change are often isolated from the implicit managers of the landscape"
We have few tools that address which biophysical, institutional, economic, and behavioural changes are needed to transition toward a sustainable future in an interconnected world. 
The MSSI "Sustainable Landscapes" research theme will focus on the connections within and across landscapes, aiming to help inform real-world policy objectives through action-oriented research at McGill. We aim to engage with regional and local stakeholders to use McGill, Montreal, and Quebec as a living laboratory. Through co-production of research with relevant stakeholders, we aim to enhance stakeholders' capacity to understand landscape dynamics and better aim our research pursuits toward action-oriented outcomes. Possible topics may include:
Linking communities' use of resources to locations from which those resources are procured

Articulate the value of protecting important biodiverse landscapes for local and regional needs

Quantify the flows and usage of nutrients (eg, nitrogen and phosphorous) through landscape interactions
Evolving land dynamics and atmosphere/climate links
The future of renewable energy and land use
Understanding opportunities for climate-smart (crop and livestock) agriculture, technological developments to improve efficiency, and linkages between production and consumption landscapes
Impact of carbon pricing or PES programs on landscapes and affected communities 
Elena Bennett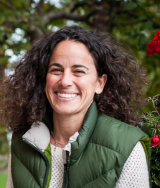 Dr. Elena Bennett is an Associate Professor in the Department of Natural Resource Sciences and McGill School of Environment. Her research centers on questions about the design and management of working landscapes (such as agricultural areas) to enhance social-ecological resilience through long-term maintenance of ecosystem services and human well-being. She is co-chair of the Future Earth Core Research Project ecoSERVICES, which aims to set the research agenda for ecosystem services in the coming decade, and a lead author of the IPBES Global Assessment. Dr. Bennett was a Leopold Leadership Fellow (2012), and a Trottier Public Policy Professor (2013-2014). She has won awards for undergraduate teaching, graduate supervision, contributions to campus sustainability, and contributions to the sustainability of her local community. In 2016, she was named one of six NSERC Steacie Fellows. 
---
Brian Robinson
Brian E. Robinson is an Assistant Professor in the Department of Geography. His research looks at how people meet their needs through use of ecosystems and natural resources, the role this plays in development in poorer regions of the world, and policies that mediate the connections between people and landscapes. Current projects examine the role that landscapes provide in supporting livelihood needs in developing countries, how environmental policies with good intentions play out in the real world, and how changes in institutions and governance can impacts social and ecological outcomes.
---
Laxmi Sushama
Dr. Laxmi Sushama is Professor in the Department of Civil Engineering and Applied Mechanics and Trottier Chair in Sustainability in Engineering and Design. She held the Tier II Canada Research Chair in Regional Climate Modelling for two consecutive terms at Centre ESCER and her expertise in science and engineering spans the areas of regional climate modeling, climate change and variability, hydrometeorologic extremes, engineering hydrology and water resources engineering. She is currently leading the Canadian Network for Regional Climate and Weather Processes, which focuses on reducing uncertainty in climate projections and weather predictions for Canada's northern and Arctic regions. Her research has laid important steps towards improved understanding of land dynamics and its climate interactions and feedbacks at various spatial and temporal scales, and climate-change impacts on Canadian water resources to enhance community and infrastructure resilience. Her research at the Trottier Institute for Sustainability in Engineering and Design (TISED) focusses on climate-sustainability nexus, with a special emphasis on urban environments, associated infrastructure and climate resilience.
Publications
Bennett, E. M. 2017. Research Frontiers in Ecosystem Service Science. Ecosystems. DOI: 10.1007/s10021-016-0049-0. [Link]
Palomo, I., M. R. Felipe-Lucia, E. M. Bennett, B. Martín-López, and U. Pascual. 2016. Disentangling the Pathways and Effects of Ecosystem Service Co-Production. Advances in Ecological Research. DOI: 10.1016/bs.aecr.2015.09.003. [Link]
Renard, D., J. M. Rhemtulla, and E. M. Bennett. 2015. Historical Dynamics in Ecosystem Service Bundles. Proceedings of the National Academy of Sciences. DOI: 10.1073/pnas.1502565112. [Link]
Bennett, E. M., W. Cramer, A. Begossi, G. Cundill, B. Egoh, I. R. Geijzendorffer, C. B. Krug, S. Lavorel, L. Lebel, B. Martin-Lopez, P. Meyfroidt, H. A. Mooney, J. L. Nel, U. Pascual, K. Payet, N. Perez Harguindeguy, G. D.Peterson, A-H., Prieur-Richard, B. Reyers, P. Roebeling, R. Seppelt, M.Solan, P. Tschakert, T. Tschntke, B. L. Turner, P. H. Verburg, E. Viglizzo, P. C.L. White, and G. Woodward. 2015. Linking biodiversity, ecosystem services and human well-being for sustainability: Three Challenges for designing research for sustainability. Current Opinion in Environmental Sustainability 14:76-85. [Link]
Steffen, W., K. Richardson, J. Rockström, S. Cornell, I. Fetzer, E. M. Bennett, R. Biggs, S Carpenter, W. de Vries, C. A. de Wit, D. Gerten, J. Heinke, C. Folke, G. Mace, L. M. Persson, V. Ramanathan, B. Reyers, S. Sörlin. 2015. Planetary Boundaries: Guiding human development on a changing planet. Science 347: 6223. 10.1126/science.1259855 [Link]
E. M. Bennett, G. D. Peterson, and L. Gordon. 2009. Understanding relationships among multiple ecosystem services. Ecology Letters 12: 1-11. [Link]
E. M. Bennett, S. R. Carpenter, L. Gordon, N. Ramankutty, P. Balvanera, B. Campbell, W. Cramer, J. Foley, C. Folke, L. Karlberg, J. Lui, H. Lotze-Campen, N. Mueller, G.D. Peterson, S. Polasky, J. Rockstrom, R. J. Scholes, and M. Spirenburg. 2014. Toward a more resilient agriculture. Solutions 5(5): 65-75. [Link]
Videos and Photos