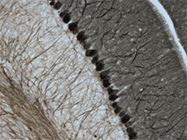 The Neurodegenerative Disease Group at The Neuro: Understanding the biology of neurodegenerative disorders in order to ameliorate and cure disease.

The Neurodegenerative Disease Group, composed of 13 primary Investigators and 18 affiliated Investigators is committed to advancing our understanding of the biological underpinnings of neurodegenerative disease in order to treat these debilitating disorders. The members of the group have strengths and expertise in both the basic cellular mechanisms that underpin the neurodegenerative process and the clinical and basic study of Parkinson disease (PD) and related movement disorders, and some rarer neurological diseases such as amyotrophic lateral sclerosis (ALS), hereditary spastic paraplegias (HSPs), polyneuropathies and ataxias. Members of the group are world renowned in human genetics and use next-generation sequencing and gene array technologies to identify new disease genes from large numbers of patient samples. The identification of such genes often points to particular cellular pathways that are disrupted in the disease process and members of our group are experts on cell-based assays to examine these processes including signalling, membrane trafficking and mitochondrial function. Studies are performed in cell lines, primary neuronal cultures, samples from patients including fibroblasts, and most recently in human induced pluripotent stem cells (hiPSCs) derived from patient's samples that can be differentiated into selective neuronal sub types. We are able to manipulate the genes using mouse genetics, lentiviral-mediated transfer of genes or inhibitory RNA species, and CRISPR/Cas9-based genome editing. Moreover, we have expertise in applying a large and diverse array of modern technologies to study the protein products of disease genes including biochemistry, structural biology, cell biology, and microscopy. In addition to such "wet lab" approaches, our group has vast expertise in human brain imaging using technologies such as magnetic resonance imaging (MRI) and radio-neurochemistry/positron emission tomography (PET) to study patients.
Our group will continue to focus on diseases where there currently exists clinical and research strengths at The Neuro. Moreover, we are committed to a program whereby these two spheres of activity are linked seamlessly such that they feed off each other in the quest to understand and treat neurodegenerative diseases. We envision that each patient seen in one of The Neuro's clinical neurodegenerative disease programs will be given the opportunity to enrol and participate as a study subject and provide clinical information, data and tissue for clinical and basic research. Conversely, basic research carried out on patient material will more rapidly inform and be translated into new therapies that have the potential to modify disease progression.
Group Leader
Peter McPherson