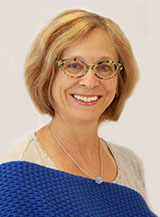 Louise Murray, RN, BScN, MScN
Academic Associate-Clinical Partnership Office
680 Sherbrooke Street West
Montreal, QC, H3A 2M7
Office: 2028
514-398-2831| louise.murray2 [at] mcgill.ca
Louise Murray has 35 years of experience in nursing, mainly at the McGill University Health Centre (MUHC) in a variety of clinical, leadership and administrative roles. In recent years, her main responsibilities have included coordinating and ensuring the quality of nursing clinical placements for the Department of Nursing at the MUHC.
As a Nursing Practice Consultant, Louise also developed tools and processes to foster the integration and welcome practices of students to their assigned clinical nursing teams.
As Academic Associate at the Ingram School of Nursing (ISoN), her role is to support the teaching mission of the School by overseeing all activities related to clinical partners, including clinical placements, education and training of health care professionals who work with students, and developing and maintaining relationships within the healthcare network.
Areas of Interest:
Nursing clinical education and placement
 
Current Research:
Recent knowledge transfer and research initiatives have centered on better understanding the fit between clinical objectives and clinical opportunities to meet these learning objectives
Reducing identified gaps (the hidden curriculum) where there is identified opportunity