Roberta Shear
Academic title(s):
Assistant Professor, Department of Obstetrics and Gynecology
Assistant Program Director, McGill Obstetrics and Gynecology Residency Program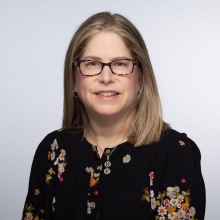 Hospital title:
Maternal-Fetal Medicine Specialist
Director of Obstetrics JGH
Director of Obstetrical Ultrasound Unit JGH
Residency JGH site coordinator
Division:
Maternal Fetal Medicine
Obstetrics
Areas of interest:
Multiple gestation 
Fetal growth restriction 
Medical complications in pregnancy 
Biography:
Dr. Shear is a graduate of McGill University where she also completed her residency in Obstetrics & Gynecology. She then completed a Fellowship in Maternal-Fetal Medicine at Ste. Justine Hospital, University of Montreal. Dr. Shear has been on staff at the JGH since 2000. She is very involved in Residency education at McGill. In 2016 she was appointed as Director of Obstetrics at the JGH and Director of Obstetrical Ultrasound. In 2017, she was appointed as the Assistant Program Director of the McGill OBGYN residency program.