Hello and welcome to the Institute of Parasitology!
Just as the eyes are the windows of the soul, so are we your point of contact for all that is student life. If you have any questions regarding housing, classes, life in Montreal, or merely want to complain about grad life, we've got you covered.  As graduate students of Macdonald campus, we are members of both PGSS and MCGSS entailing you to the social support structures of both campuses. Graduate studies in Parasitology is more than just a degree. We are a uniquely interdisciplinary and collaborative community with a diverse background of scientific and life experiences. Our goal is to provide an intellectually stimulating experience where you are provided the tools to grow as a thinker in an environment conducive to your physical and mental wellbeing.
Meet your student Reps
MARCUS KAJI
Born Prairie, bred Ontarian, I've now come to call McGill home. Finding my way to the Institute was a natural progression for my studies: I like worms and I like drugs! My research under the tutelage of Dr. Geary and Dr Beech focuses on the neural pharmacology of anti-parasitic drugs that target intestinal worms which cause mass morbidity in developing countries of the world. By understanding functional mechanisms of action, we can better utilize current, and develop future drugs to combat infection.
Contact:

marcus.kaji

[at]

mail.mcgill.ca
MAUDE DAGENAIS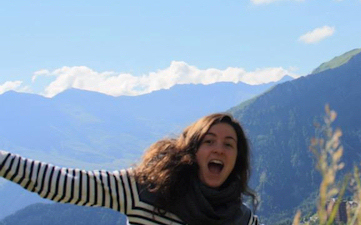 Having also completed my under-graduate studies here, I have been at McGill since 2010 and have been working on my doctorate since 2014. I'm interested in studying the host-parasite interaction during infection with Schistosoma mansoni. My research focuses on mechanisms employed by the parasite in order to modulate the host immune system and establish a permissive environment for parasite perpetuation. A better understanding of these strategies utilized by the parasite could lead to the identification of novel targets for the potential prevention and therapeutic intervention of schistosomiasis.
Contact:

maude.dagenais

[at]

mail.mcgill.ca
GEORGIA LIMNIATIS
After completing my undergrad at Concordia University, I decided a change of scenery was in order, and hopped over to McGill University to pursue a doctorate degree. I joined Dr. Elias Georges lab because I was intrigued that both cancer and malaria were being studied. I work on transporters that mediate multidrug resistance in cancer, but also in malaria and a plethora of other diseases. By targeting these transporters, we hope to overcome clinical drug resistance.
Contact:

georgia.limniatis

[at]

mail.mcgill.ca
---
PAST REPRESENTATIVES
Hilary Byrne (2015-2016)
Maude Dagenais (2015-2016)
Maeghan O'Neil (2014-2015)
Georgia Limniatis (2014-2015)
Philip Zanet (2013-2014)
ACTIVITIES
Orientation BBQ: We host a yearly barbecue to welcome new students to the institute and bond over deliciously flame cooked meat and veggies
Halloween Party
Winter Holiday Party