Welcome
At McGill University, the term 'physicianship' has come to refer to the two roles of the physician - that of healer and that of professional.  In recent years, there has been greater emphasis placed on the concept of identity formation; that is, in supporting students as they develop their own professional identities during medical school.
Physicianship, as a distinct component of the undergraduate medical curriculum, was introduced in 2005.  An educational blueprint for a physicianship component was approved at a Faculty retreat in 2004.  Courses and educational modules were rolled out sequentially from 2005 to 2009.  The flagship course is the Physician Apprenticeship, a four-year longitudinal mentorship.  The goals of the apprenticeship are to:  (a) assist students in their transition from laymen to physicians; (b) guide them in becoming reflective and patient-centred; and (c) provide a safe environment where they are encouraged to discuss issues arising out of their educational experiences.  A white coat ceremony and other learning activities related to professionalism, the healer role, and identity formation continue to be offered in the undergraduate program under the rubric of 'physicianship' and the oversight of a coordinating committee.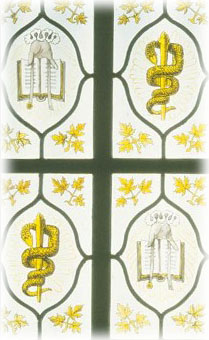 The Physicianship Component Committee has taken as an identifying symbol the imagery of the stained glass window in the McGill Osler Library of the History of Medicine. It was designed by Architect Percy Nobbs.
Heavenly Hand and Book
This frame of the window illustrates the standard symbol of a university -the book, symbolizing learning and scholarship. The heavenly hand symbolizes the transcendent sources of wisdom. One can view this as representing the "Science-Wisdom" of medicine. Asclepius The second frame of the windows shows the staff of Asclepius, from the Greek word "Asklepas", meaning snake. Both the snake and the staff are symbols of healing. The snake sheds its skin and suggests the idea of resurrection. The staff, although dead wood, carries budding leaves and therefore new life.