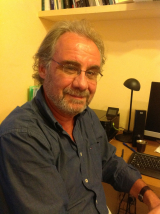 Professor
Department of Sociology
McGill University
Leacock Building, Room 816
855 Sherbrooke Street West
Montreal, Quebec, H3A 2T7

Tel.: 514-398-6846
Fax: 514-398-3403
E-Mail: axel.vandenberg [at] mcgill.ca (Axel van den Berg)
---
Axel van den Berg is Professor of Sociology at McGill University. His research interests include labour markets and labour market policy, sociological theory and the relation between economics and sociology. He has done work on the effect of labour market policies on labour flexibility in Sweden and Canada and collaborated in several EU-funded research networks conducting cross-national comparative research on current transformations of the welfare state. His most recent work has focused on the evolution of labour market and social policies and outcomes in Canada and the largest Canadian provinces in comparison with other major advanced countries.
Research
Economic sociology
Welfare states and labour markets
Contemporary sociological theory
Education
PhD (1985): McGill
Recent Publications
Van den Berg, Axel. (2018). Of Babies and Bath Water. Canadian Review of Sociology/Revue canadienne de sociologie. 55. 10.1111/cars.12202.
Van den Berg, Axel & Plante, Charles & Raiq, Hicham & Proulx, Christine & Faustmann, Sam. (2017). Combating Poverty: Quebec's Pursuit of a Distinctive Welfare State. 10.3138/9781487513498.
Meardi, Guglielmo & Martín-Artiles, Antonio & Van den Berg, Axel. (2016). A Canadian Immigration Model for Europe? Labour Market Uncertainty and Migration Policy in Canada, Germany and Spain. 10.1108/S0195-631020160000032005.
Nazif-Muñoz, José & Quesnel-Vallée, Amélie & Van den Berg, Axel. (2014). Did Chile's traffic law reform push police enforcement? Understanding Chile's traffic fatalities and injuries reduction. Injury prevention : journal of the International Society for Child and Adolescent Injury Prevention. 21. 10.1136/injuryprev-2014-041358.
Van den Berg, Axel. (2014). Public Sociology, Professional Sociology, and Democracy.