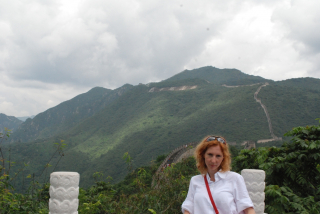 Associate Professor
Institute of Sociology
Czech Academy of Sciences
Jilská 1
110 00 Prague 1
Czech Republic

Tel.: +420210310238
E-Mail: dana.hamplova [at] soc.cas.cz (Dana Hamplová)
Czech Academy of Social Science Profile
---
Dana Hamplová graduated with Ph.D. in Sociology from Charles University (Prague, Czech Republic) and in 2006 joined the Canada Research Chair in Social Statistics and Family Change as a post-doctoral fellow. In 2009, she was appointed as a member of the Scientific Advisory Board of the European Social Survey. Currently, she is a representative of the Czech Republic in the International Social Science Program. Her research focuses on the family, well-being, and life course in comparative perspective. She has extensive experience in research, administration, and leading of scientific teams. 
Research
Advanced quantitative methods and longitudinal data analyses
Life-course research
Changing family values and dynamics
Sociology of Religion
Education
PhD in Sociology (2004): Charles University, Prague 
Recent Publications
Marina Oseeva, Veronika Paluchova, Petr Zacek, Petra Janovska, Tomas Mracek, Martin Rossmeisl, Dana Hamplova, Nadezda Cadova, Iva Stohanzlova, Pavel Flachs, Jan Kopecky, Ondrej Kuda, Omega-3 index in the Czech Republic: No difference between urban and rural populations, Chemistry and Physics of Lipids, Volume 220, 2019, Pages 23-27, ISSN 0009-3084, https://doi.org/10.1016/j.chemphyslip.2019.02.006.
Hamplová, D. (2018). Marital Status, Smoking and Binge Drinking in Comparative Perspective. Sociológia, 50(6), 647-671.
Hamplová, D., & Trusinová, R. (2018). Conflict in the family of origin, subjective wellbeing, and mental health in adulthood. Sociologický Časopis, 54(2), 199-218.
Hamplová, D. (2018). Does Work Make Mothers Happy?. Journal of Happiness Studies, 1-27.
Václavík, D., Hamplová, D., & Nešpor, Z. R. (2017). Religious Situation in Contemporary Czech Society.