Professor 
Burnside Hall Room 420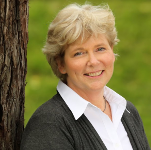 855 Sherbrooke St. West
Montreal, QC H3A 2T7
Tel.: (514) 398-4307
Fax.: (514) 398-7437
Email: nancy.ross [at] mcgill.ca
---
Dr. Nancy Ross is a professor in the Department of Geography and the Associate Vice-Principle of Research and Innovation at McGill University. She is also the associate member of the Department of Epidemiology and Biostatistics, the Institute of Health and Social Policy and the School of Environment.
Dr. Ross is currently a Canada Research Chair (Tier 1), and her research interests mainly include how social and built environments affect human health. She also oversees research analyzing the relationship between neighbourhood-level built design, food environments and health outcomes.
Research
Dr. Ross studies the geo-social determinants of health with an emphasis on how physical and social urban environments shape human health across the lifespan. Her research is supported by the Canadian Institutes of Health Research and the Canada Research Chairs Program.
Education
PhD in Geography(1997): McMaster University
Recent Publications
O'Brien, G. A., Ross, N. A., & Strachan, I. B. (2019). The heat penalty of walkable neighbourhoods. International journal of biometeorology, 63(3), 429-433.
Grisé, E., Wasfi, R., Ross, N., & El-Geneidy, A. (2019). Evaluating methods for measuring daily walking to public transport: Balancing accuracy and data availability (No. 19-01446).
Stephanie E. Austin, James D. Ford, Lea Berrang-Ford, Robbert Biesbroek, Nancy A. Ross, Enabling local public health adaptation to climate change, Social Science & Medicine, Volume 220, 2019, Pages 236-244, ISSN 0277-9536, https://doi.org/10.1016/j.socscimed.2018.11.002.
Zavaleta C, Berrang-Ford L, Ford J, Llanos-Cuentas A, Cárcamo C, et al. (2018) Multiple non-climatic drivers of food insecurity reinforce climate change maladaptation trajectories among Peruvian Indigenous Shawi in the Amazon. PLOS ONE 13(10): e0205714. https://doi.org/10.1371/journal.pone.0205714
Hajna, S., Dasgupta, K., & Ross, N. (2018). Laboratory-Assessed Markers of Cardiometabolic Health and Associations with GIS-Based Measures of Active-Living Environments. International journal of environmental research and public health, 15(10), 2079.