Assistant Professor 
Department of Sociology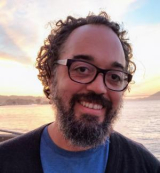 Leacock Rm. 727   
855 Sherbrooke St. West
Montreal, QC H3A 2T7
Tel.: ((514) 398-6839
Email: peter.mcmahan [at] mcgill.ca
---
Dr. Peter McMahan is an Assistant Professor in the Department of Sociology. His research focuses on the use of computational methods and big data analytics to demonstrate how everyday social interaction may connect to macro-level structural inequalities.
Research
Dr. McMahan uses big data analytics to model macro-level social inequalities by dissecting everyday social signals and language structures. His research falls onto five major categories:
Social networks
Status
Computational Methods
Mathematical Models
Statistical Methods
He examines communication in social and academic contexts, and how these interpersonal interactions including posture, facial expressions and speech style link to and reflect implicit power hierarchies. Dr. McMahan shows that social inequalities do not only exist structurally, but are also deeply ingrained into personal exchanges and interactions.
Education
PhD in Sociology(2017): University of Chicago
Recent Publications
Peter McMahan and James Evans, "Ambiguity and Engagement," American Journal of Sociology 124, no. 3 (November 2018): 860-912. https://doi.org/10.1086/701298
McMahan, P. (2017). Unreciprocated relationships and the structure of status (Order No. 10599365). Available from ProQuest Dissertations & Theses Global. (1935594787). Retrieved from https://proxy.library.mcgill.ca/login?url=https://search.proquest.com/do...
Peter McMahan (2016) Like family: Network coevolution and the emergence of altruism, The Journal of Mathematical Sociology, 40:2, 112-122, DOI: 10.1080/0022250X.2016.1147444
Mario Luis Small, Vontrese Deeds Pamphile, Peter McMahan, How stable is the core discussion network?, Social Networks, Volume 40, 2015, Pages 90-102, ISSN 0378-8733,
https://doi.org/10.1016/j.socnet.2014.09.001.
Padgett, John, Peter McMahan, and Xing Zhong (2012). "Economic production as chemistry II" in Organizational and Market Emergence, ed. J. Padgett and W. Powell.