Professor 
Burnside Hall Room 420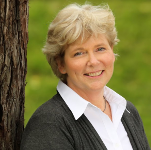 855 Sherbrooke St. West
Montreal, QC H3A 2T7
Tel.: (514) 398-4307
Fax.: (514) 398-7437
Email: nancy.ross [at] mcgill.ca
---
Dr. Nancy Ross is a professor in the Department of Geography and the Associate Vice-Principle of Research and Innovation at McGill University. She is also the associate member of the Department of Epidemiology and Biostatistics, the Institute of Health and Social Policy and the School of Environment.
Dr. Ross is currently a Canada Research Chair (Tier 1), and her research interests mainly include how social and built environments affect human health. She also oversees research analyzing the relationship between neighbourhood-level built design, food environments and health outcomes.
Research
Dr. Ross studies the geo-social determinants of health with an emphasis on how physical and social urban environments shape human health across the lifespan. Her research is supported by the Canadian Institutes of Health Research and the Canada Research Chairs Program.
Education
PhD in Geography(1997): McMaster University
Recent Publications
*MacVicar S, Berrang-Ford L, Harper S…. Ross NA and the IHACC Research Team (2017) How seasonality and weather affect perinatal health: comparing the experiences of Indigenous and non-Indigenous in Kanungu District, Uganda. Social Science and Medicine 187:39-48.
*Sanmartin C, Decady Y, Trudeau R, Dasylva A, Tjepkema M, *Fines P, Burnett R, Ross NA, Manuel DG (2016) Linking the Canadian Community Health Survey and the Canadian Mortality Database: an enhanced data source for the study of mortality. Health Reports 27 (12): 10-18.
*Hajna S, Kestens Y…. Dasgupta K, Ross NA …. (2016) Neighbourhood walkability and home neighbourhood-based physical activity: An observational study of adults with type 2 diabetes. BMC Public Health 16, Issue 1, Article number 957. DOI: 10.1186/s12889-016-3603-Y.
*Wasfi R, Dasgupta K, Orpana H, Ross NA (2016) Neighborhood walkability and body mass index trajectories: Longitudinal study of Canadians. American Journal of Public Health 106: 934- 40. DOI: 10.2105/AJPH.2016.303096.