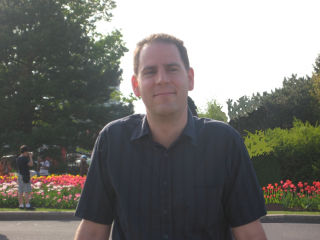 Associate Professor and William Dawson Scholar
Department of Sociology
McGill University
Stephen Leacock Building, Room 840
855 Sherbrooke Street West
Montreal, Quebec, H3A 2T7

Tel.: 514-398-5664
Fax:  514-398-7276
E-Mail: ershor [at] gmail.com
---
Eran Shor's work spans several major research and teaching interests including the causes and effects of political conflict and violence, specifically counterterrorist policies. Relying on a combination of longitudinal time-series cross-national analyses and case studies, his work demonstrates the importance of social and cultural processes in determining state policies and challenges more traditional theoretical approaches. He leads two separate research projects that examine inequality in the media coverage of ethnic minorities and women, using both qualitative content analysis and various statistical analysis methods. He is also conducting a large-scale statistical meta-analysis project, which explores the effect of different social stressors and of social relationships on mortality in different countries and under varying conditions. This project has already produced analyses of the effects of unemployment, war exposure, widowhood, divorce, lifetime non-marriage, participation in voluntary organizations, and social support. 
Publications
In press   Shor, Eran. "Why do They Legislate? A Cross-National Time-Series Analysis of Terrorism and Counterterrorist Legislation." Forthcoming in Social Problems. Doi: 10.1093/socpro/spw028.
In press   Hognas, Robin, David Roelfs, Christa Moore, and Eran Shor. "J-Curve? A Meta-Analysis and Meta-Regression of Parity and Parental Mortality". Forthcoming in Population Research and Policy Review.
2016   Shor, Eran. "Counterterrorist Legislation and Subsequent Terrorism: Does it Work?" Social Forces 95:525-557. 
2016   Shier, Allie* and Eran Shor. "'Shades of Foreign Evil': 'Honour Killings' and 'Family Murders' in the Canadian Press." Violence Against Women 22:1163-1188. 
2016   Shor, Eran, Ina Filkobski*, Pazit Ben-Nun Bloom, Hayder Alkilabi*, and William Su. "Does Counterterrorist Legislation Hurt Human Rights Practices? A Longitudinal Cross-National Analysis." Social Science Research 58:104-121.