Subcommittee on Queer People | Joint Board-Senate Committee on Equity
The Subcommittee on Queer People is a subcommittee of the Joint Board-Senate Committee on Equity (JBSCE) and is committed to ensuring equity for queer people at McGill University. As such, the Subcommittee on addresses issues of representation, inclusion and support of lesbian, gay, bisexual, transgender, two-spirited, intersex, asexual, and queer members of the University with respect to academic and non-academic life on campus. The committee is comprised of individuals from all colours of the rainbow and includes academics (professors and librarians), staff, graduate and undergraduate students, and members of Montréal's larger academic community. 
The Subcommittee on Queer People is one of six subcommittees that reports directly to the JBSCE, along with the subcommittees on Aboriginals, Disability, Race, Women, and Family. The Subcommittee has a mandate as an advisory body such that it functions to make recommendations to Senate for changes and improvements which need to be implemented on campus in order to ensure equity for all members of McGill's community.
The Subcommittee on Queer People meets once a month to discuss new ways of advancing equity and improving queer life on campus. If you have issues that you would like addressed, please contact us at queer [at] mcgill.ca (subject: Queer%20Equity%20at%20McGill%20University) .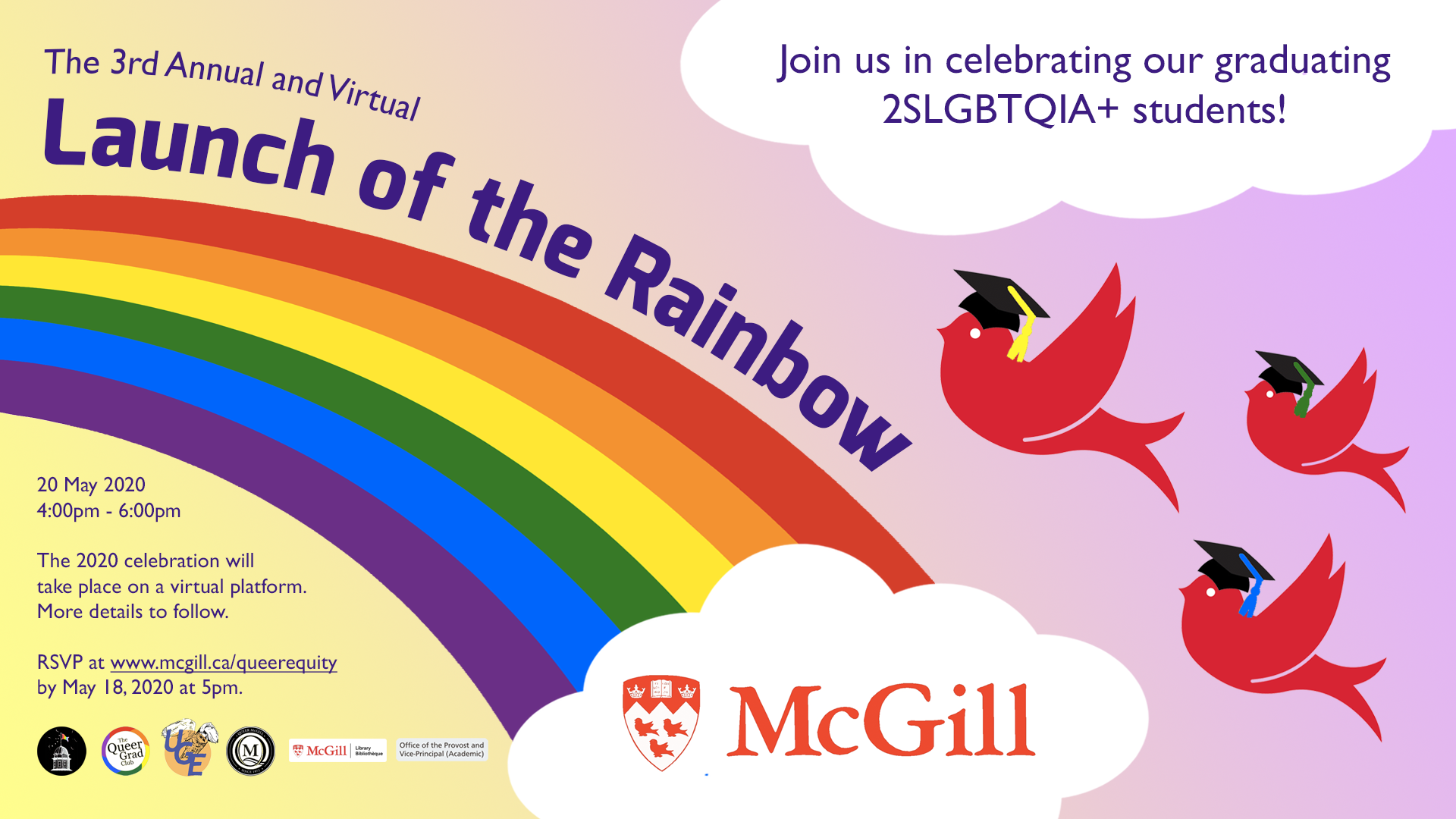 Launch of the Rainbow is McGill University's Lavender Celebration for graduating 2SLGBTQIA+ students. All 2SLGBTQIA+ graduating undergraduate students, graduate students, and School of Continuing Studies students are invited to attend this event with friends and families. 2SLGBTQIA+ academics and staff are also welcome. Ally professors, librarians, university administrators, university staff, and ally students can attend and show their support for the 2SLGBTQIA+ graduating students as they launch into the next chapter of their lives.
Because of the COVID-19 pandemic, this year's Launch of the Rainbow will be held online. Click here for more information and to register for the 2020 Celebration.